Reading Time: 2min52s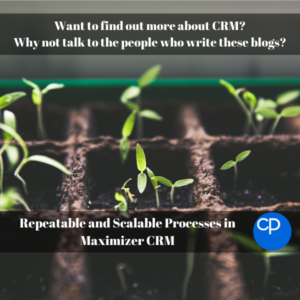 In my previous article titled: How to Manage Data Integrity using Maximizer CRM, I explained that there are a number of elements that make up effective and efficient CRM. The first is "Clean Data" the second thing we need to discuss is how that data relates to and feeds repeatable and scalable processes.
Having clean data is one thing, having the processes that utilize that data in a way that grows the business is the next step in ensuring that your CRM platform is geared to guarantee growth. Maximizer CRM offers its clients a host of tools that allows the business to manage these processes. I will use this article to detail these tools and explain the benefits there-in.
Understanding User Defined Fields (UDFs)
Previously, I explained that UDFs are a way for any business or organization to bespoke Maximizer from within Maximizer, cutting out the need for additional spend when the system needs to pivot or change. UDFs in Maximizer can be numeric, alphanumeric, pick list, date range, formulae or free text fields and they can be created in the Address Book, Opportunities and Customer Service modules.
The Opportunities Module
No matter the market sector, every business or organization has opportunities that need to be processed and tracked. Depending on the market sector you are in, there may be one process that you need to track or multiple processes. For example, the charities and not-for-profit sector will track grant applications and donor retention/growth opportunities whereas any other type of business will track processes relating to the products they supply or the services that they render.
The opportunities module in Maximizer allows you to create multiple processes depending on the nature of the business. Each process will have different stages, the stages can be renamed at your preference and each stage will contain a unique set of UDFs capturing information relating to that particular stage. Once all of the information is complete at stage 1, the user can then move to stage 2 and so on. Ensuring that these processes are repeatable and scalable will assist the business in forcing clean data through a process, it keeps the pipeline healthy and the beauty with Maximizer is that if the process needs tweaking or changing, you or any educated amateur with-in the business can do it themselves.
The Customer Service Module
At the beating heart of any business or organization are profitable customer relationships. Customer service management is vital to client retention and happy customers will not only come back for more but they will also refer you within their own network of friends, clients and suppliers. Depending on the sector you operate in or the acute nature of your business, customer service can take many forms. In the chemicals industry, for example, the happiness of customers is directly linked to how efficiently the company tracks and processes non-compliance.
Maximizer CRM understands the importance that customer service carries. The platform also understands that there can be no "1 size fits all" approach to customer service and like the opportunities module, Maximizer CRM allows you, the user, to define the parameters within the module. Users are once more guided through a predefined process which will help the business effectively track, manage and resolve issues such as technical support, billing and returns.
Tools that help
Once the processes in the modules are defined and operating at full steam, there are still a host of tools in Maximizer that will keep the user's laser focussed on what they should be doing in their respective job roles. These tools are not limited to but include:
Task Management, managed via each user through their "Hot-List" tasks can be created and assigned to different team members. Tasks are tracked as "Activities" once a user has completed a task, the system automatically prompts the user to create a follow-up task or appointment if that is necessary to the process they are following.
Appointment Management, the calendar supports integration with iCal which means that appointments created in Maximizer will appear on the calendars of the recipients of the meetings as well as the Maximizer user's calendar. Scheduling an appointment in Maximizer not only sends an invite to all the recipients but also sends a reminder to everyone on the day of the appointment.
Alerts, appointments created in Maximizer naturally have a start time attached to them. Tasks can also have times attached to them, this means that Maximizer will alert the user through notifications that an appointment is due to start or that they should be busy with a specific task at that point in time.
Once you have clean data feeding repeatable and scalable processes you are now on the cusp of what defines efficient and effective CRM. The final cog in the machine is how you visualize the output data that the processes are working to produce. In the final article in this three-part series, I will discuss how Maximizer CRM takes data and displays it as information. Information that will guide the business in numerous ways, when to pivot, what to change and where to focus.
Where can I get more advice?
With us! If you need help with choosing a suitable CRM system for manufacturing and engineering, or you want to make sure that your CRM project will be a success, talk to our team. We offer a free, independent CRM consultation that will help you get started with your CRM project. During the session, one of our CRM experts will help you define your needs, what your goals are and what tools you need to achieve these goals. Schedule your CRM consultation now!