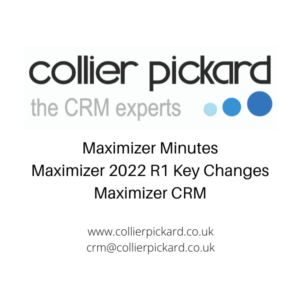 The Maximizer 2022 R1 update brings plenty of quality-of-life features that make understanding your interactions with clients and prospects much more intuitive and informative.
In our latest video, we give you an overview of the features and show you where to find them in your Maximizer.
We have both a video and the transcript for you here. Or, if you want to see everything in one place you can download the Maximizer CRM 2022 R1 New Features here.
If you want more detailed guids on some of the features mentioned in the video, you can check out our other videos here:
Want to see it happen in front of you? Here is the video guide:
Transcript
In this video we will cover:
Improvements to the Interactions feature
Improvement to the Interactions Report
Changes to hotlist tasks and appointments
Advanced Search using interactions as qualifiers
1. Improvements to Interactions Feature
Starting with the improved interactions features:
Previously, you would have found Emails under the notes and documents tabs, but they are now categorised as interactions which can be found under the interactions tab
This has been done to include all forms of interactions, including emails, in one simple place
To account for this change, the procedure for composing emails has changed to include specifying four fields related to interactions

Category
Result
Full Access
Read Access

Like with default entries in the address book, you can now create a default entry for interactions, as well as emails
For example – the subject and results value might be the same for most of your email interactions, by specifying these results as 'default values', you can save time in the long run.
Also, the default value for 'Full Access' might be the same for all email, specifying it before hand can then save you time in composing emails.
Default and customer interaction types can now be added to an existing interactions list from the interaction tab. A new 'Add' button is available under the Interactions tab, by using this, you can add your own customer interactions.
2. Improvements to the Interactions Report
When it comes to reporting on Interactions with Maximizer CRM, there are two types of report – The Consolidated Interactions and the module-specific Interactions.

The Consolidated Interaction Report is available in Address Book, Opportunities, Customer Service, Leads and Hotlist, and this allows you to report on the interactions of users.
Module-specific interactions reports contain details related to interactions associated with a module. These reports can be run for the Address Book, Opportunities, Customer Service, and the Leads modules.

In both type of Interactions report, two additional details have been added –

Duration of phone calls
Duration of all interactions
Previously, the duration of incoming and outgoing calls was only available on the Incoming vs Outgoing call report
3. Changes to Hotlist Tasks and Appointments
In version 2022 R1, two fields related to Interactions have been added to the Hotlist Task and Appointment windows, these are – Category and Results
These fields together help connect appoints and tasks with corresponding interactions.
This now means that tasks and appoints can be accessed from a single place and can also be reported on in the Interaction report
4. Advanced Search Using Interaction as Qualifiers
You can now search for records from the Address Book, Leads, Opportunity and Customer service modules using Interactions as search qualifiers.
Using a combination of the interactions fields you can create complex search queries to filter the records.
Saving the search queries allows you to store the criteria for a search operation.
I hope you've enjoyed this video talking about the new features in Maximizer 2022 R1, if you're not already on the latest version of Maximizer, feel free to get in touch.
If you want to get some more information about these new features, we have a couple more videos which you can find in the description below.
Where can I get more advice?
With us! If you need help with choosing a suitable CRM system for manufacturing and engineering, or you want to make sure that your CRM project will be a success, talk to our team. We offer a free, independent CRM consultation that will help you get started with your CRM project. During the session, one of our CRM experts will help you define your needs, what your goals are and what tools you need to achieve these goals. Schedule your CRM consultation now!