Preparing for CRM
This week, we take a look at how you can prepare for CRM – the actions you need to take before looking at software, systems or processes.
Transcript:
Hello. Today we're going to talk about preparing for CRM – some of things you need to think about before you look at software, before you look at systems, before you look at processes. Now a few years back Harvard Business Review did some extensive research into CRM and distilled their research down into 4 questions that you need to ask yourself before you embark on a CRM strategy.
And these are the four questions:
Is it strategic?
Where does it hurt?
Do we need perfect data?
Where do we go from here?
Their conclusion was that if your CRM initiative, your CRM project, is not strategic, is not going to go into the heart of the way your company runs and the way you deal with your customers and your clients, then don't bother. Anything that you do in CRM, if it's not strategic, will not deliver a strong return on investment and you should put your efforts into something else.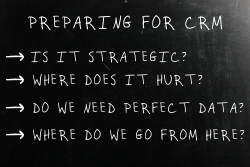 However if the answer to the question is yes it is strategic and we want to improve the way that we deal in a customer centric way, then the very next thing you need to ask yourself is where it hurts at the moment. Where are the pain points in the relationship at different parts of your organisation and with different parts of the market in which you deal and the customers that you try to attract and retain?
Now, clearly as with anything else you'll get a better return on investment by applying CRM effectively to things which are dysfunctional at the moment – rather than applying CRM to processes that are reasonably smooth and the gain that you get by making improvements there are only small increments.
So you need to do an analysis of your business and work out where the customer journey and your operations are completely out of alignment. We have some comments about the customer journey in the context of defining a CRM strategy in another video that's part of our CRM whiteboard series.
Once we've defined where it hurts we need to define what constitutes the perfect data you need in order to execute your CRM strategy effectively. If, for example, email marketing is an essential part of your customer engagement then you need perfect email addresses otherwise your messages and your communication will not be delivered. If it's not important to you to know how many times people are meeting with your customers or your prospective customers or how many times they're being phoned, then recording the details of every meeting and every phone call in a CRM system is delivering no real benefit for you. So in that particular case we don't need perfect contact data in order to improve CRM culture within the business. So the definition of what represents perfect data and where you don't need perfect data is an important part of preparing for CRM.
Once you've thought about these questions in detail and mapped out the best approach and the areas of your business where you'll get the most impact in terms of making you customer-centric you have all the bones of a plan which will be the implementation. A lot of people at this point in time will engage a third party, a specialist organisation, a firm of consultants to help them map this out and use the experience of other CRM deployments in order to maximise the effectiveness of this particular deployment.
Thank you for watching!