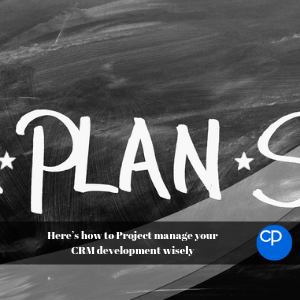 In this article, I'm going to take you through the different stages of how Collier Pickard deliver a typical CRM project, from the initial kick-off meeting to post-installation support.
If you've already decided on your CRM system here's everything that you should take into consideration. CRM systems are flexible pieces of software with varying uses, and as such the process is different for every business and may differ from the one below.
Project Kick-Off Meeting
This is the initial meeting where the project stakeholders will discuss how a CRM system can fit into your culture, the business processes that can be carried into the system and set out a timeline for the installation. We will define any actions to be completed before development can begin and highlight a delivery date.
This timeline will include review and build sessions, user training, user acceptance testing (UAT) and a suggested date for going live.
This is also your opportunity to ask any questions and voice any concerns that you may have about the project.
RAID
Plan as thoroughly as you like, you're still going to face problems. To help manage this we use our project office RAID method to help identify any pain points. This is a project management tool that tracks risks, actions, issues and decisions.
With Risks, we will work with you to list any of the problems that we think might occur over the lifecycle of the project and how to mitigate these.
Actions are tasks that have to be fulfilled to complete the project. An owner is assigned to each action, usually Collier Pickard or yourself. The owner will chart each item and be responsible for tracking the progress of the action.
Unfortunately, every project comes with its own Issues throughout each stage of development. Our job is to effectively prepare for, identify and remove any problems that your project is met with.
Finally, we have Decisions, these will be presented as a list of decisions that need to be made throughout a project. See below for an example of a decision chart.

Scoping
During the scoping process, we will discuss your requirements for the system. It's functionality, required fields and of course the outcome that you want to achieve with your CRM.
Data Cleaning
Data cleaning is essential when moving data into a new system. CRMs are only as good as the information that they hold and incorrect records can interfere with a functioning CRM. Always check for duplicates, spelling mistakes and any incomplete data.
To find out more about data cleaning, click here to read one of our Managing Directors articles.
Design and Implementation
Now that we know what you require from your system, the data is ready to be imported and the infrastructure is in place we will develop and prepare the system for your staff to access and test before it goes live.
Training
Following on from data cleaning, the best way to make sure that all future data input contains the correct information is to properly train all of your staff in the use of their CRM system. While we can make the mandatory fields that are required with every new entry (Lead Sources and Surnames and so on) there are more effective ways to make sure your CRM is used to its full potential.
We will typically break the training into two separate courses, one for the end-users and one for administrators. Administrators will have a lot more responsibility with the system so the extra training will cover the admin features (adding new users, running reports, deleting data).
UAT (User Acceptance Testing)
UAT is often overlooked and misunderstood by many companies but is arguably one of the most important areas of the testing process.
Once users are introduced to the system, they can work through everyday scenarios and provide feedback, such as any minor bugs and how comfortable they are working with the CRM.
Go Live
As with any business, your needs will change over the coming months and years, your CRM product should be able to evolve with you. If you require further development, new functionality or for any problems to be fixed, your support team is there to help.
A project of any size requires proper planning to make sure everything is as expected by the users. Through effective project management, you will have ironed out all the kinks, fixed any problems and properly prepared your team for the cultural changes that come with a new CRM system.
If you have any questions about implementing a new CRM system, or about CRM in general, feel free to get in touch by heading over to the contact page or by giving us a call. We are more than happy to help.
Where can I get more advice?
With us! If you need help with choosing a suitable CRM system for manufacturing and engineering, or you want to make sure that your CRM project will be a success, talk to our team. We offer a free, independent CRM consultation that will help you get started with your CRM project. During the session, one of our CRM experts will help you define your needs, what your goals are and what tools you need to achieve these goals. Schedule your CRM consultation now!