This week we address a major stumbling block in many CRM implementations: Failure to address the big question – "What's in it for me?". Alan Joenn explains how to address this question and boost user adoption of your CRM solution.
Transcript:
We're here today to talk about the big question in CRM: "What's in it for me?".
Lots of CRM systems over the years (Customer Relationship Management systems) have failed to deliver on the promises that were made of them or failed to deliver on the expectations that the managers who bought the system had of the implementation. And often the reason cited is that no-one uses it.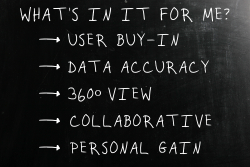 So, the big question in CRM is about user buy-in. How do I get good user buy-in? Because if I do get good user buy-in I'll get accurate data in the system; I'll get the much heralded 360 degree view of the client; I'll get the data and the information that I need for true collaborative working.
So how do I get the user buy-in? The answer is that you need to deliver personal gain to each individual user that you expect to have CRM in their daily lives. So the question that you have to ask is "What's in it for me?"
Not "What's in it for the company?" but "What's in it for me?".
Traditionally much of the gain that individuals get from using a CRM system is that they no longer have to do periodic reporting. People who have to make up lists of calls they've made during the last week and calls they plan to make during the next week can remove that task from their daily lives, simply by using the CRM system to track their activity. Now other users or managers can view what's happened or what's planned as a simple by-product of people using the CRM system in their daily jobs.
There might be other reasons why people will get a personal gain from using a CRM system. It might be that the hassle that's involved in emailing people to check information before you take a decision on it is removed. If they can see that gain for themselves they might become advocates for spreading the word and encouraging other people to use the system in an effective way.
Peer pressure works in CRM.
So answering the question "What's in it for me?" is not straight forward but it's become scientific. We can help! There are lots of tips on our blogs. Why not see if any of the advice there helps you address the big question in your organisation.
Thank you for watching.