One of the most commonly reported issues about CRM systems are that they are running too slowly. We take a look at why this can be such a large problem for a CRM implementation in this week's CRM Whiteboard session.
Transcript:
Hello and welcome to this video whiteboard session. We're going to talk about CRM problems and issues in a series of four short videos. The first one is about speed.
One of the problems that often crops up with CRM users that we talk to is they say it's too slow. Whilst the users are willing to use the system – they've bought into all the messages that were delivered during the programme start-up about commitments to good quality data, accurate timely information being entered into the system and they get all this, but the technology falls short and the systems are too slow.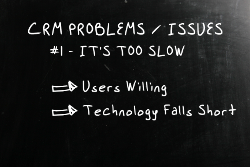 So this could be a windows environment in a local area network, where the server power is just not enough to deliver fast response time to desktops in a multiuser environment. It could be that your web connection speed is not fast enough in a browser access environment to CRM where people are maybe working from remote offices or working from home using broadband connections. If these speeds are not fast enough then the tech falls short then users, despite their willingness will find that they can't use the system. It becomes frustrating and they will find ways around that potentially by making shortcuts around the system, not adhering to your CRM policy and your system will start to fall into misuse.
So it's a big issue, if CRM delivery speed at the desktop, at the browser, on the mobile device is not fast enough your project is in jeopardy.
So we hope you've found this tip useful. We've expanded on this point about speed and hardware in the Operational CRM eBook which is on the collierpickard.co.uk website, have a look for that, download it and you'll get more info on this point. We hope you found this video useful please re-join us for numbers two, three and four in this series about CRM problems.
Thank you for watching!