What Can CRM Do For You?
This week we're beginning a new series of CRM Whiteboard sessions – short videos designed to help explain some of the many concepts involved in CRM. As its the first one, we thought we'd get right to the basics of CRM and ask just what is CRM and what can CRM do for you?
Transcript:
We're here today to talk about customer relationship management and what it might deliver to you and your business. We've listed here some things that people have as their goals from a CRM system.
Many organisations will look at customer relationship management and apply technology to their business processes in terms of increasing their sales revenue. Getting more people into the marketing funnel through effective lead generation; making sure those leads are warm so that when they pass into the sales funnel they are much easier to close; making sales people more effective and increasing revenues from the sales team that you have in place at the moment.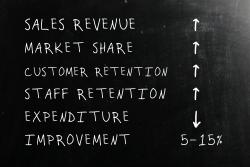 Other people might choose CRM to help them profile and target new organisations or new geographies to bring into their portfolio of clients – to increase their market share. This might mean going into new territories. It might mean targeting your products and services against your competitors. But the profiling you get from a CRM system can help you be more effective in this way.
Other organisations might decide that their attrition rate of customers, people who buy from them once or twice and then become lapsed customers, is too high and therefore a goal for CRM might be to improve customer retention. In this respect the CRM system will help you profile the kinds of communication that you need to keep customers engaged and maybe you'll move over into some kind of voice of the customer profiling which will help you work out how to improve customer satisfaction levels.
Other organisations might say that the recruitment, training and the time to effectiveness of new staff in the business development arena is just too long and therefore keeping staff and keeping happy staff is important and maybe CRM can be employed in order to make people's jobs easier, improve employ satisfaction and therefore help with this area.
Many of these things include a reduction in expenditure and for some people the goal of a CRM system will be to reduce expenditure.
So what can CRM do for you? If you listen to industry watchers and experts such as Aberdeen, Gartner Group, Forrester, Harvard Business Review, they collectively have written much about the gain you can get from CRM and agree that you should be able to add between 5 and 15% to your business by taking CRM seriously and effectively using technology to help in these areas.
If you'd like to find out more about how CRM can help you we have lots of hints and tips in our blog.
Thank you for watching!