The Basics of Business Process Management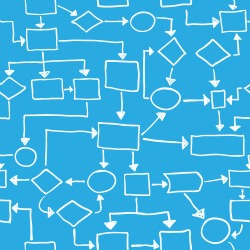 I took a quick poll amongst some colleagues recently about Business Process Management. "What is it and what does it do for you?" were my questions. Workflow and Alerts came the answers. So I thought it time to offer some insight into the real nature of Business Process Management (BPM) and the benefits it can bring to an organisation.
Obviously workflow and business alerts are synonymous with BPM (and I'll come to these in a moment). But other services offered by BPM are less well known – even though they have the power to deliver enormous benefits.
Let's talk about Data Integration. Both the CRM world and the ERP world are hung up on integration – orders must feed invoicing; invoicing must reflect in CRM for a view of sales history; and so on. People talk about their APIs, about Web Services and about XML – are you still with me? Maybe not! It's difficult to get excited about these subjects in a world where "simple" and "plug-and-play" rule the roost.
Triggering Automatic Events
So think about this: BPM picks up a change in a key piece of data in (say) CRM; this triggers an automatic event which takes the changed data and updates a corresponding field in (say) Sales order Processing. No API, no Web Services, no program code – just an event configured without too much technical know-how in BPM.
Now we can extend this concept to many other procedures within your organisation:
Publishing content from a departmental system to the web site
Allowing customers to update their email subscription preferences in CRM from your web site
Distributing regular reports to the right people at the right time based on date triggers
Forcing a data refresh in BI as sales opportunity data is amended
Launching a new customer service case based on an inbound email
… the possibilities become endless – once you appreciate that any data change in any part of your IT world can trigger an event which represents Data Integration across your business systems.
Accuracy and Speed
The benefits of BPM are now easy to articulate from this insight into its true power – data accuracy through the removal of human intervention in data transfer; speed and responsiveness to change as there is no need to wait for a report or a process that runs at the end of day; reduced costs through the combination of accuracy and speed.
And finally, back to workflow and alerts. BPM does these too – but you already knew that, so no need to go further!