What is Creatio?
Creatio (formerly bpm'online) is a great solution for businesses looking to unify Customer Relationship Management and Business Process Management into one neat system.
The solution gives users the ability to view all aspects customer of engagement through a single CRM platform. Creatio provides three integrated products, which can be used separately or in a single CRM bundle – Marketing Creatio, Sales Creatio and Service Creatio.
.
Why Creatio?
Automate business processes without coding and tech know-how
Keep these processes up to date easily as your business evolves
Accelerate marketing, sales and service on a single platform through one solution
Empower users with the data they need to make good decisions – every time
Price
From £35.00 per user, per month. For more details and to arrange a free trial please contact us.

Who uses Creatio?
Creatio appeals to price-conscious SMEs who need enterprise-level functionality, which makes it popular with enterprise businesses too. It is used widely across a number of industries including:
Financial Services
Professional Services
Retail
Public Sector
Transport & Logistics
Media & Advertising
Telecommunications
Pharmaceuticals
Real Estate
Manufacturing, Wholesale & Distribution

Creatio's Customer Relationship Management platform uses technology to manage how you interact with your customers and potential customers. We believe it has the power to transform and accelerate marketing, sales and service processes.
So, if you want to generate more leads, boost sales, build strong relationships, improve the customer journey and ultimately, increase profitability talk to us to find out if Creatio CRM is the right solution for you and arrange a free trial.

Marketing automation software to orchestrate customer journeys and accelerate lead-to-revenue
360° customer view
Segmentation
Lead scoring
Lead management
Landing pages management
Omnichannel campaigns
Email marketing
Event management
Marketing resource management
Loyalty / reward program management

Sales force automation software that helps accelerate the complete sales cycle – from lead to repeat sales
360° customer view
Opportunity management
Orders and invoices
Field sales
Sales forecasting
Products and services
Quote management
Contract management
Document flow automation
Territory and quota management
Project management
Service management software to accelerate service delivery and streamline customer engagements
360° customer view
Agent desktop
Omnichannel communications
Customer portal
Case management
Service catalogue
Service level agreement
Knowledge management
Problem management
Feedback management
ITIL-processes
Studio Creatio
Business Process Management (BPM) is a way of defining and then controlling your organisation's processes.
Using Studio Creatio makes BPM simple and can accelerate the transformation of your business cycle including the three cornerstones of CRM – marketing, sales and service.
Here's an article of ours if you want to find out more about BPM.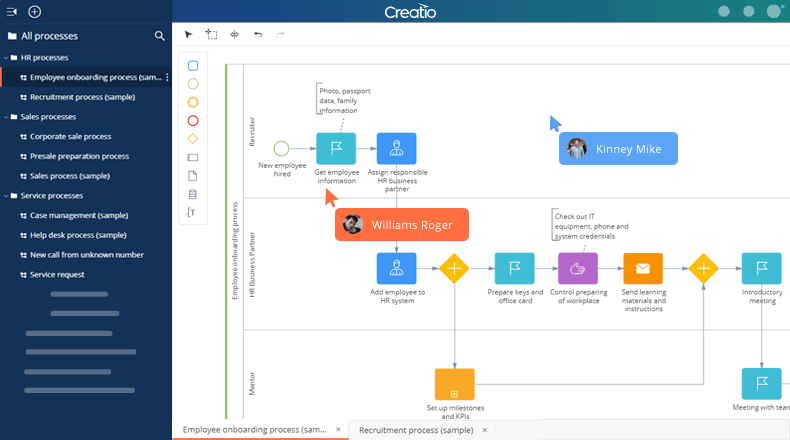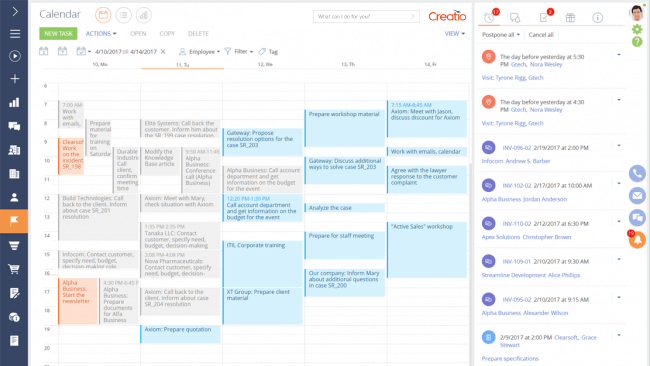 Key Benefits of Creatio BPM software
Empower both IT and non-IT staff to build enterprise-level apps and processes
Save time and valuable resources by automating routine and repeatable tasks
Effortlessly build custom apps with Creatio's low-code development capabilities
Extend functionality by seamlessly integrating with a growing list of add-ons including GDPR tools, WordPress integrator and Social Media connectors.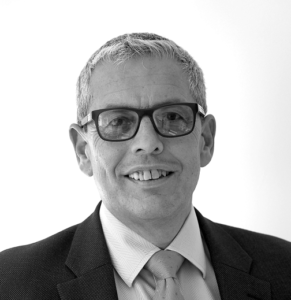 We recognise that flexible, adaptable and scalable business processes are the best way to deliver the increases in profitability that drive shareholder value. CRM has become a business transformation programme to unify people, processes and data – to delight customers.

We believe that with the inclusion of Creatio in our product portfolio we are further enhancing our ability to help our customers excel. Our research clearly showed how Creatio could make data work for the user, as opposed to making the user work for the data. The perfect tool for workplace transformation.

Paul Pitman, Managing Director at Collier Pickard
These days, the vast majority of implementations are cloud-based, which means that you don't have to worry about server specifications etc. For on-premise, or private cloud deployments, please contact us to discuss the requirements for your solution.
Collier Pickard offers extensive support options to our Creatio clients. Our team of Creatio consultants are highly experienced and able to support your CRM system fully, leaving you to run your business. Choose the support option that meets your needs:
Priority Support
Take out an annual support contract with Collier Pickard for full access to remote, online support and telephone help desk support. Get priority assistance for issues large and small.
Ad-hoc Support
Buy support hours up-front, charged at an hourly rate. Access to remote and help desk support.