Salesfusion
Attract opportunities. Convert contacts. Nurture relationships.
Salesfusion is the premier platform for improving how companies attract, engage, and close new customers. Sales and marketing professionals worldwide use Salesfusion to optimise the lead to revenue life cycle, by adding efficiency, scalability and predictability to each step in the process.
Salesfusion combines traditional outbound and more modern inbound approaches to marketing automation, from email marketing to lead scoring and social media sharing and analytics.
Why we recommend Salesfusion
Salesfusion is the only marketing automation software solution that is built on a CRM database. Salesfusion boasts more out-of-the-box integrations to CRM systems than any other marketing automation system. It remains cost effective enough for SMEs, despite its rich features and functionality and can help organisations improve their bottom line through boosting lead generation and conversion.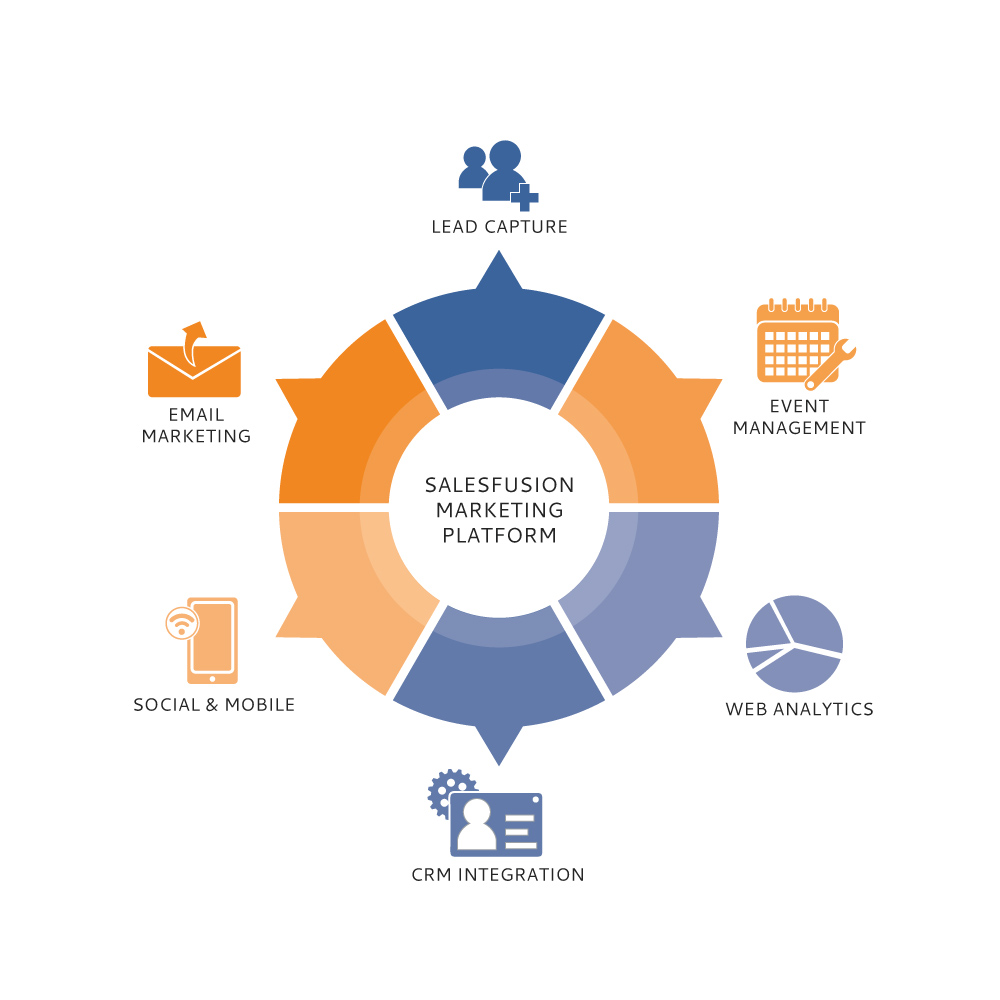 Smart Marketing Automation
See 70% faster sales cycle and 54% improvement in sales quota.
Lead scoring that works
80% of top-performing companies are more likely to use lead scoring technology.
Improve Sales Performance
Help your sales people sell more by automating repetitive tasks and analysing what works and what doesn't in your sales process.
Nurture your leads
Optimise your marketing funnel and take control of conversations with prospects, by automating key activities and monitoring progress.
Offer First Class support
Retain your customers by improving the quality of your customer services and resolving issues quickly using case management and monitoring tools.
Fanatical Customer Care
Have the tools to accelerate, improve, and redefine your marketing approach.
Lead nurturing (conditional logic)
Split and advanced A/B testing
Unlimited bulk emails
Landing pages
Dynamic content
Lead scoring (multiple scoring profiles)
Lead routing
Activity and score alerts
Email rendering and spam analysis
Standard and mobile email templates
Segmentation and list management
Unlimited custom fields
Website visitor tracking
SEO keyword analysis and tracking
Web analytics dashboard
Multi-channel marketing report
Marketing calendar
Custom user permissions
URL shortener (Itty Bitty)
Event listener
Social sharing
Advanced reporting function
2 sending domains
10k contact pack
18 x 5 Live support
Live training
Dedicated client success team
24 x 7 support access portal
Learning management system
Up to 5 domains
Event manager (GTM, GTW, and WebEx)
RSS feeds
Google adwords integration
Integrated event calendar
Advanced list segmentation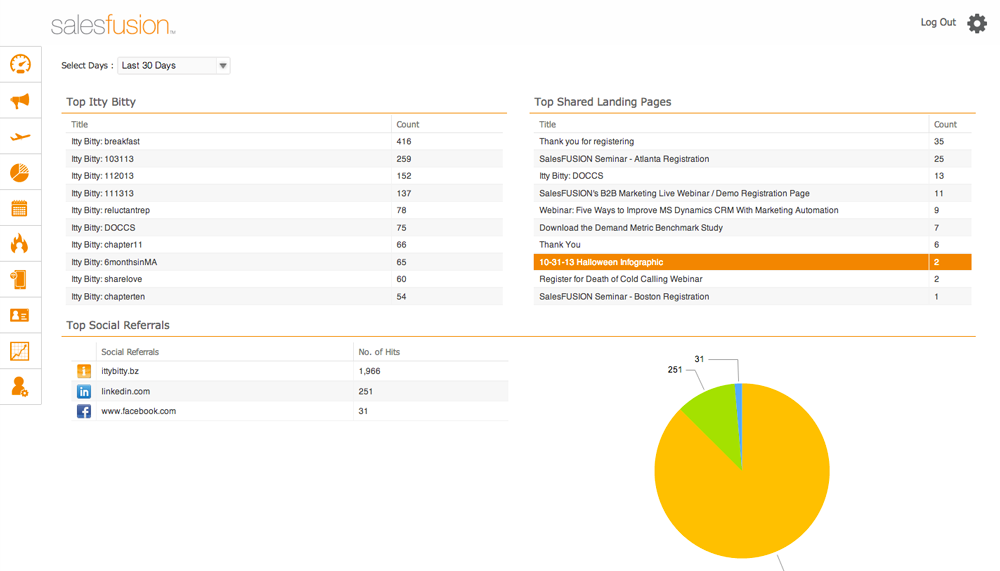 Salesfusion's mission is to help marketers attract new opportunities, convert them into customers and nurture them into lifetime relationships.
Email and Campaign Management
Today, Salesfusion supports a rapidly growing list of clients across many vertical market segments, operating in 21 countries. Over 400 companies and thousands of marketing and sales personnel use Salesfusion on a daily basis to drive new leads and revenue into their sales funnel.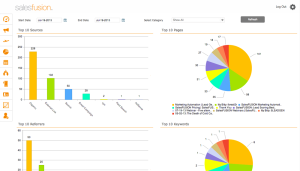 WebForensics is an analytics and website visitor tracking system that is part of the Salesfusion marketing automation platform. WebForensics provides valuable information regarding companies and individual visitors who have hit your site. The WebForensics data enables you to drive critical marketing processes such as lead scoring, sales lead alerts, and nurture marketing campaigns.
Capture known, anonymous, and corporate visitors
Set alerts to notify the sales team when high-value leads access your site
View web activity inside of your CRM system
View how visitors came to your site and what they did while on the site
Daily and weekly reports shows visitor trends
Interactive map shows geographic concentrations of web visitors
Website activity data is scored and ranked by lead analyser
View all web activity detail by lead and contact inside of CRM
Route leads to sales based on web activity
Route leads to nurture marketing campaigns based on page views
Compliments existing web analytics tools (Google)
Supports applicable EU Cookie Laws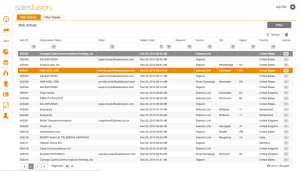 Salesfusion provides a host of advanced web analytics designed to provide a deeper level of insight into website visitors, behaviour and performance. Web analytics reports in Salesfusion will help your marketing team fine tune your web marketing efforts with reports that show keywords, top pages, visitor flows and more. From high-level dashboards to automated reports distributed to key team members via email, Salesfusion's analytics solution will improve your online marketing efforts and web presence.
30+ pre-built standard reports
Keyword analysis and tracking
Website performance dashboards
Report distribution in email
Customised dashboard reporting
100% Ad-hoc report writing capabilities
Keyword cloud analysis
Track multiple sites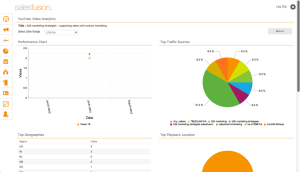 Salesfusion has added a unique integration to YouTube. All videos hosted by YouTube are accessible from within the Salesfusion platform. This includes all metrics and the ability to launch and share videos right from within the marketing automation application. Salesfusion's YouTube integration will help your marketing team, more effectively leverage this invaluable marketing tool.
View all active YouTube videos inside of Salesfusion Dashboard
Share videos with YouTube tools or Salesfusion short-URL & social publishing tools
Apply squeeze pages to your video for improved tracking
Filter video metrics by a variety of date criteria
Track all traffic sources into your videos
Embed your videos into Salesfusion Landing Pages to create custom video microsites
Salesfusion is the only marketing automation software solution that is built on a CRM database. It can integrate at a deeper level to customers' installed CRM systems. Today, Salesfusion boasts more out of the box integrations to CRM systems than any other competitor in its space.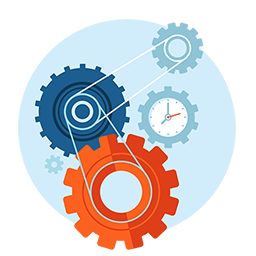 Event Management and Social Marketing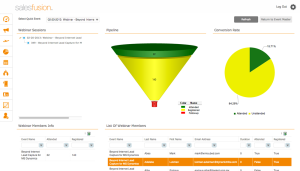 Salesfusion provides an event management automation platform that facilitates the creation, management, and tracking of all of your marketing events. Because it is part of an overall marketing automation platform, tracking to an event ROI (leads captured at events, through opportunity, to closure and revenue) is easy!
You are able to create both online and offline events
You can integrate with the leading virtual webinar platforms
You can create automated event nurture campaigns
You can create easy and seamless event registrations
You can create multi-session events
You can create pre/post-event surveys
You can easily plan for seat counts
You will have advanced analytics for tracking and ROI analysis
Promote your event in social networks
Salesfusion makes creating, managing and tracking webinars campaigns inside of the marketing platform a snap with our webinar event solution, FusionCast™.
Pre-integrated to GoToWebinar and Webex
Create the entire webinar from start to finish in Salesfusion
Use Salesfusion email platform for confirmation, reminder, follow up emails
Use Salesfusion landing pages for registration forms
Eliminate limitations of branding with webinar platform emails/landing pages
All registration & attendee data is automatically captured in Salesfusion
Pre and post-event attendee data is pushed to CRM
Pre-built nurture campaigns
Host post-webinar videos
Salesfusion is on the cutting edge of social marketing solutions for B2B companies. We provide a suite of valuable and easy-to-master tools for social marketing that will help you monetise your social efforts from start to finish. Whether are you an advanced social marketing professional or just getting started in social, we have solutions to meet your needs.
Social publishing – push and track content into social networks
Social sharing – add widgets to your digital content
Social analytics – see from which sites people are clicking your content
Social profiles – capture and append social profile data
Advocate marketing – see who your strongest advocates are by what they post and share
Track which content you post in social networks is most popular
Post form routing to specified URL or Salesfusion page