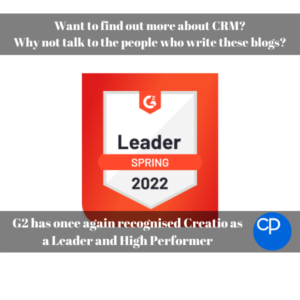 This is just a quick article, but we're always one to celebrate our business partners' successes and this is big news. Creatio has once again been ranked among globally recognised providers of best-in-class no-code, low-code, BPM, and CRM solutions.
You can see how they match up to other providers on G2 here.
G2 has acknowledged Creatio's no-code platform for process automation and CRM for its superior capabilities and the greatest degree of freedom it delivers to its customers. Creatio's services include a no-code platform (Studio Creatio), CRM applications (marketing, sales, and service), industry workflows for 20 verticals, and marketplace add-ons, all designed with business users in mind.
If you want to find out more about the recognition, you can find the full press release here.
To find out how Creatio can help elevate your business, get in touch with us today.
Where can I get more advice?
With us! If you need help with choosing a suitable CRM system for manufacturing and engineering, or you want to make sure that your CRM project will be a success, talk to our team. We offer a free, independent CRM consultation that will help you get started with your CRM project. During the session, one of our CRM experts will help you define your needs, what your goals are and what tools you need to achieve these goals. Schedule your CRM consultation now!