Selecting CRM Software
There are a lot of CRM Software packages available today. Many will have features that seem identical to those offered by other platforms. How do you go about choosing the correct CRM software for your organisation? In this week's CRM Whiteboard, Alan Joenn discusses the processes of selecting CRM software.
Transcript:
Today we're going to talk about Customer Relationship Management and what you might think about when you're selecting CRM software for your organisation.
There's a lot of software out there and a lot of functions appear to be the same within the multiple packages that are offered, so how do you choose one from the next?
Well, we think that this process is one that's worth following.
Who has customer contact
Meet/exceed expectations
What data do they need
What will be collected
How to make this easy
How will others use it to meet your goals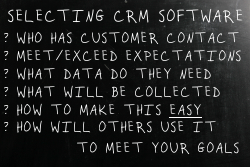 Firstly, you need to think about the customer contact that happens within your organisation. How do you communicate with prospective customers? How do you talk to existing customers? So, make a list of who makes the customer contacts and then decide what it is that person needs to do in order to meet, or hopefully exceed, customer expectations during the course of that contact.
This will help you develop strong relationships with prospective customers and help in the customer satisfaction of retaining customers long-term.
So if people are going to meet or exceed customer expectations, you need to work out what data they need to do that job and what information you are going to ask them to collect so that you have further details, further profiling to help in the development of the long term relationship.
Most importantly, it needs to be easy.
The people who are going to exceed customer expectations need to get their hands on that data easily and quickly, and they need to be able to collect whatever information you want them to collect with ease.
If you fail in this area then user buy-in to the system will drop off and data quality might suffer as a result.
So, if we've made it easy, we've now got the data in the system, you also need to work out who else in the organisation will use that information, that profiling, that customer segmentation, customer analysis, in order to help you achieve your business goals. Growth, more efficiency, higher levels of customer satisfaction, better staff retention, whatever your goals are.
So, if we can define these parameters here you now have a blueprint for looking at the CRM software that's presented before you.
The way the data is presented and collected needs to meet these definitions. That will determine the devices that people will work with for CRM. You need to work out who is going to be analysing the data and taking decisions about business development approaches or customer communication and how they need that analysis to come out.
So defining these steps of the way you touch customers and the way you contact customers will define the functionality that you need from your CRM package.
There's more information about selecting CRM software and about creating easy to use systems on our blog.
We hope you find our tips and advice of value and thank you for watching today!