We all know by now that CRM is great for managing existing relationships, but how do you go about finding new leads to fill your marketing funnel, your sales funnel, and then finally to convert them into new customers or clients? In this week's CRM Whiteboard, Alan Joenn looks at the relationship between digital lead generation and CRM.
Transcript:
Hello! Today we're going to talk about Customer Relationship Management (CRM) and the relationship it has with modern techniques in lead generation.
Now lead generation can follow lots of conventional methods; advertising, direct mail campaigns, tradeshows, exhibitions, and so on. However, in today's technology enabled marketplace there are an awful lot of digital techniques that you can use for lead generation and we've highlighted three of them here.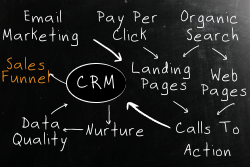 Some organisations will buy lists and use conventional email marketing to attract new prospective customers, new prospective clients. Others will use Google Adwords or others pay-per-click facilities to draw people to their message. Others will have clever techniques for getting found on the web through blogging or search engine optimisation or use of social sites, but ways that will pick you up in organic searches against the search terms that you've identified yourself with.
Now obviously organic searching can lead people straight to your website. However, email marketing and pay-per-click will almost always be associated with a specific landing page that reinforces the message which was inherent in your email or in your pay-per-click advertising campaign.
The trick with both specific landing pages and generic web pages on your main website is to add compelling calls-to-action. Things which are so compelling that people will give you some information about themselves. Maybe all you need at this stage is their email address and nothing else. Maybe you want your profile of that enquirer to be somewhat more expansive; their company name, their job title, the size of the organisation. The information that you collect at this point will be determined by you and the way the people within your chosen markets work.
Once you've captured some information about the enquirer, this can start to populate your CRM database. You now have the ability to use conventional email marketing, tele-research, telephone sales techniques – ways of nurturing the enquirer in order to improve the quality of the data that you have about them to start to qualify the opportunity you have to supply services or products to this enquirer and therefore push stuff from the core of your CRM database into the conventional sales funnel where you have qualified prospects that go through presentation and negotiation into confirmed orders.
This is our model for best practice in digital lead generation and the relationship that it has with CRM. We use it effectively ourselves.
If you would like more information about this technology and its application to your business, have a look at some of the tips and hints on our blog.
Thank you for watching.