CRM and Apps
In the first of a three part series examining how to collect data for CRM whilst out on the road, we take a look at the concept of apps and how they relate to CRM systems and data collection.
Transcript:
Hello, and welcome to this CRM Video Whiteboard Session. This is the first of 3 short videos where we are going to talk about different aspects of CRM where the data that you need in your CRM system is collected by teams who are often out and about and not directly involved with your office environment. So the first one is about CRM and apps.
Three years ago when tablets, the iPad being obviously the most well known one, when tablets hit the market they were not seen as corporate devices. They didn't have the integration and the security aspects which were required to keep them as part of the corporate IT world. And over the three years that the iPad and other tablets have been out there, that situation has changed and there are now people developing apps which do fit these corporate rules.
As a result of that, enterprise organisations, FTSE 100 companies, global players in pharmaceuticals, in professional services, have really started to take advantage of the fact that they can build apps which are used interactively by their teams during the course of doing their job automatically.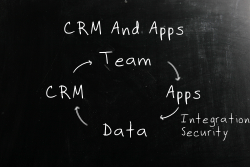 One example is one of the biggest pharmaceutical companies in the world, they now have an interactive app which runs on the iPad which displays to the medical people that they're visiting, products, customer satisfaction surveys, usage surveys, prescription surveys and rather than the app being a mono-dimensional PowerPoint type presentation, it's now an interactive app which allows them to touch the screen and collect preference data from the person they are presenting to, at the time that they're running the presentation. The next time that person gets in range of wifi or broadband the data is harvested and fed back into the CRM application.
Now, this use of apps in the enterprise space is obviously costing these organisation that are building them hundreds of thousands of pounds to create bespoke applications which do exactly what they need to do, to harvest this data from their field based operations.
Trends in the IT sector over the last couple of decades would say that if it's happening today as a bespoke spend in the enterprise space in a fairly short period of time, this capability will get packaged up with other CRM applications and become available in the small and medium business space.
So this presentation is just to let you know that apps on tablets are not necessarily just the kind of thing you do at home, use for your email when you're out of the office, and let the kids play great games on. There is a growing trend that interactive apps on the tablet will make it a business device which allows you to harvest data in a way that is incredibly efficient and doesn't require people to spend a lot of time collecting the information that you need to keep your CRM system in the shape you want it to be, with fantastic quality data.
So I hope you find this interesting there are a couple of other videos in the series coming up and if you'd like more info about CRM and issues surrounding data quality please visit collierpickard.co.uk and thank you for watching today.

Alan Joenn is Marketing Director at Collier Pickard.