Microsoft Dynamics CRM
The power of productivity
Microsoft Dynamics CRM is a simple to learn and use CRM solution that helps your business find the insights needed to respond quickly and efficiently to the needs of your market. With over 3.5 million users and 40,000 customers worldwide, Dynamics is designed to help organisations attract, keep and develop profitable customer relationships.
Why we recommend Microsoft Dynamics CRM
Microsoft Dynamics CRM delivers a wide range of benefits including simple point-and-click configurability, scalability and easy integration with existing applications and databases. It's familiar interface and design help boost user adoption, making CRM an indispensable part of your company culture.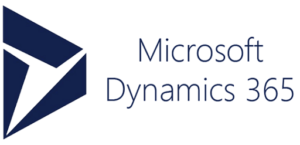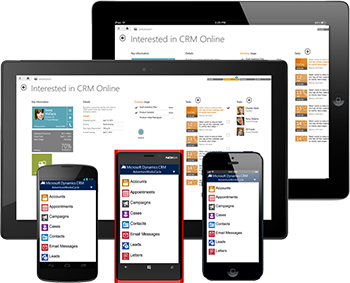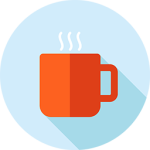 Familiar
Microsoft Dynamics CRM functions on a next-generation native Microsoft Outlook client, offers browser-based and mobile access, and advanced user personalisation. An approach designed to improve user adoption and ease of access to information.
Next-Generation Outlook Client
All email messages, meetings, contacts and customer information can be managed through one central location with the native Microsoft Outlook client.
Office-Fluent UI
Preview panes, contextual Office ribbons and key office features including mail merge and Microsoft Excel export/import.
Advanced Personalisation and Flexibility
Customise and extend CRM to meet your organisation's unique needs, using role-based forms, personal views, drag-and-drop customisation and intuitive developer tools.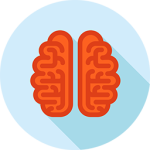 Intelligent
Performance and goal management are aided by Microsoft Dynamics CRM's in-line business intelligence, guided process dialogues aid users, and real-time dashboards keep your sales, service and marketing teams up-to-date, ensuring they can do their jobs effectively.
Contextual Analytics
Real-time dashboards are available out-of-the-box or configurable to your needs, supported by drill-down analysis and in-line data visualisation.
Guided Process and Actionable Insight
Using Microsoft Dynamics CRM's intuitive segmentation tools, conditional formatting and powerful reporting your organisation can identify new opportunities and trends. Use guided process and workflows to streamline approvals and improve consistency and best practice adoption.
Operational Efficiency
Improve information flow and achieve operational efficiencies using Microsoft Dynamics CRM's bulk data import, activity auditing and field-level security.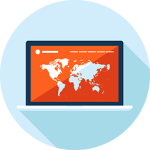 Connected
Microsoft Dynamics CRM can be configured to meet specific business needs through its cloud development, Windows Azure interoperability, Microsoft SharePoint capabilities and the new Microsoft Dynamics Marketplace.
Contextual Document Libraries
Easily create marketing collateral, sales proposals and customer contracts with integrated document management and version control.
Internal and External Connections
Develop internal collaboration with team record ownership, comprehensive queues and real-time communication tools whilst identifying new business connections and gauging online influence with the Connections feature and social capabilities.
Portals
Robust portal solutions better enable customer self-help and the streamlining of event management processes.
Mobility
Using the offline client or any web-enabled mobile device, your staff can gain easy access to CRM data and features outside of the office.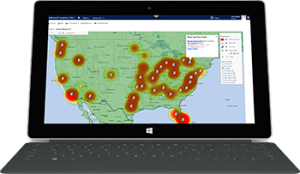 Microsoft Dynamics CRM helps you spend more time selling and less time on administrative tasks.With impressive functionality such as full lead to cash visibility, lead and opportunity tracking, streamlined approvals and real–time sales forecasts, Microsoft Dynamics CRM enables sales people to create a single view of the customer.
Learn who is buying what from your company through using Microsoft Dynamics CRM. Create account, contact, lead and opportunity records in order to segment your data and improve targeting and reporting.Convert quotes into sales orders with ease and confidence using built-in version control. Respond to demands from your customers as they arise, with quote and order tracking – helping you to provide high levels of service time and again.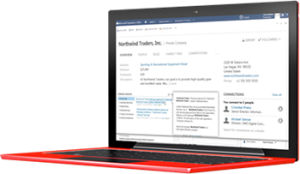 Microsoft Dynamics CRM provides a flexible and familiar marketing solution for your staff that helps transform every point of contact with your leads, prospects and customers into a marketing opportunity.
Track marketing campaign activities and monitor campaign performance with built-in marketing functionality. Campaigns can be tracked from inception to close, with leads assigned to the right resource as soon as they arrive, and full budget and cost analysis information can be accessed to keep your marketing efforts on the right path.
Using Microsoft Dynamics CRM's marketing tools you can effectively focus your organisation's marketing efforts and execute targeted campaigns using intelligent list and segmentation tools.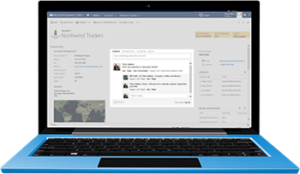 Microsoft Dynamics CRMs familiar functionality and interface helps users to work within the CRM system in a natural, personal way. Customer services professionals are informed with insightful and actionable intelligence, allowing for a collaborative and connected organisation.
With Microsoft Dynamics CRM your customer service professionals can offer superior customer support services and increase their capacity to handle requests.
Track requests, manage support issues from inception to resolution, and provide effective and efficient customer service throughout the customer experience to ensure satisfaction.
Microsoft Dynamics CRM requires at least the following for its servers to run: Processor – x64 architecture or compatible dual core 1.5 GHz processor, Memory – 2GB RAM, Hard Disk – 10GB space.
Collier Pickard offers extensive support options to our Microsoft Dynamics CRM clients. Our team of consultants are highly experienced and able to support your CRM system fully, leaving you to run your business. Choose the support option that meets your needs:
Priority Support
Take out an annual support contract with Collier Pickard for full access to remote, online support, help desk support and onsite support where necessary. Get priority assistance for issues large and small.
Ad-hoc Support
Buy support hours up-front, charged at an hourly rate. Access to help desk and online support.