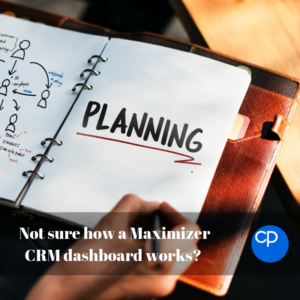 If you don't know what you're looking for, setting up dashboards in Maximizer can be quite intimidating. If you're not sure how to make them work, look no further. This blog will walk you through the basics of CRM dashboards – what they are, who they were made for, and most importantly, how to make them.
What are dashboards?
Dashboards are here to help present the information from your Maximizer CRM database and visualise it with a graphical interface. This interface will then display a snapshot of the data that has been specified by the user.
Dashboards are made up from one or more 'indicators', otherwise known as 'Control Types', each of which will suit different types of data depending on what information you want to see. To create a dashboard indicator, you can base it off of a search that has been saved in any of Maximizer's principle modules (the Address Book, Opportunities, Customer Service and Campaigns).
If you're not sure about the best ways to make a 'saved search', be sure to have a look at one of our previous blogs on the topic.
A dashboard will not only provide you with a bird's eye view of your data, but will drill right down to where that data has come from. This allows you to view more detail on each entry.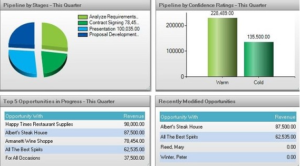 Aesthetic is also fundamental for visual data consumption and so it is important to choose the right control type for your data. For instance, a pie chart with 20 data points would be messy, so consider using the bar chart instead.
Bar Chart

These are great for quantities of category such as the number of sales made by your sales reps.

Pie Chart

These are used for similar tasks to bar charts.
Pie charts are best suited for smaller data sets

Tables

These are good to show information such as top ten performing accounts or showing the list of opportunities that have been won in a week, month, year, etc.

Counter

Counters are used for returning simple values such as total revenue for a period of time.

Progress Bar/Speedometer/Thermometer

In a similar vein as counters with progress bars, speedometers and thermometers, you can set a target and measure the progress towards it.
Who benefits from dashboards?
Depending on the dashboard that you are using, whoever you are, as a user of Maximizer, there is a dashboard for you.
As with any CRM system, dashboards are only as good as their data, providing that they have the correct values, you can make a dashboard show almost anything.
At Collier Pickard, we have dashboards set up for our sales team, support team, marketing team and our technical team.
If you want to find out more about specific dashboard set-ups, why not have a look at one of other blogs on the subject?
Click one of these links to find out how to set up a dashboard for your customer service team or a sales manager.
How do you make dashboards?
Now that you know what dashboards are, let's find out how to make them.
Indicators are linked to your previously saved searches, such as any leads for your latest marketing campaign. Once you have saved the search and know that it returns the data that you are expecting, you can head over to the 'Dashboards' section of Maximizer.
For an in-depth tutorial on how to create your dashboard, why not watch one of our Maximizer tutorials? Maximizer CRM 2017 – Creating Sales Dashboards
One helpful feature is that each dashboard is customisable to an individual user; particularly handy if you are managing a team of individuals, each monitoring their own opportunities and cases. To achieve this, the saved searches utilised by the dashboard should be filtered by 'Current User' (such as Opportunity Leader = Current User).
If you want to find out more about Maximizer dashboards or Maximizer as a whole, feel free to read one of our other blogs on the subject or get in touch and we will help you in any way that we can.