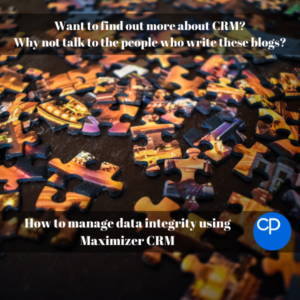 Reading Time: 2min19s
Effective and efficient CRM is not a pipedream, it is easily attainable when you understand what you need to get right on the platform so that the system can do the right things for you and the business. There are a number of elements that make up an effective and efficient CRM platform, one of which is data integrity. 'Dirty' data creates multiple headaches for the different departments in a business, from marketing to customer service, team members are left feeling embarrassed and frustrated.
Maximizer CRM is the perfect tool to ensure that your data remains clean, relevant, easily accessible and up-to-date. I will use this article to detail the pitfalls of data integrity and where Maximizer CRM fills the gaps, safeguarding the business and its employees as you acquire, develop and retain relationships with your prospects, clients and suppliers.
The power of User Defined Fields (UDFs)
Imagine a platform that allows you to bespoke the system from within the system. This means that there is no need to have important information hiding in notes attached to the client record. As essential information is received, users can populate UDFs with that data giving the team the necessary information at a glance before picking up the phone or sending off an email.
UDFs in Maximizer can be numeric, alphanumeric, pick list, date range, formulae or free text fields. This means that not only does the team have access to essential information like contact numbers and email addresses but they also have access to critical information, data that details the stage of a sales process or what industry the prospect/client operates in. Utilizing Maximizer effectively and to its full potential ensures that your data is complete and most importantly, accurate.
Duplicate Entries
Whether a duplicate entry is created using weak import tools or team members are adding new entries without checking if they already exist, duplicate entries are a nightmare if left unchecked. The core of the problem is the confusion that duplicate entries creates, information on the prospect or client is spread across multiple entries giving the team no consistency of data.
Thankfully Maximizer CRM has thought about this for you, when importing your data, Maximizer runs multiple checks on the data and warns you of any potential duplicates that you are about to create. When team members are creating new records manually, Maximizer will again warn the user that they are about to create an entry that already exists in some form or another on the database.
Completeness of Data
Let's say that you have all the UDFs and standard fields necessary for any staff member to efficiently perform their tasks. Is the data now complete? Well, that depends, if you cannot see everything you need in Maximizer then the data is not complete and the answer is no. If decision making and planning relies on information outside of Maximizer then again, the answer is no.
The solution is simple, understand what information you are gaining from the platform/s outside of Maximizer and use the UDFs to display that information to you in your CRM. A well-maintained CRM platform will give anyone, no matter their position, a true 360° view of a prospect, a client or a supplier.
Trusting the Data
Once the duplicate entries have been deleted and the UDFs have been used to ensure that your data is complete, you and your team can now trust that data. Accurate and complete data will lead to the various teams producing better results because they have all the data that they need to support them as they acquire, retain and develop relationships with prospects, clients and suppliers.
Maximizer CRM is an extremely powerful CRM platform that gives a business every tool it needs to be successful. Understanding the importance of data integrity and how you define it is equally as vital as the platform itself. By our definition, data integrity relies on the completeness, validity, consistency, timeliness and accuracy of the data. For a deeper understanding of how we define data integrity please have a look at this blog that details 5 signs that your CRM data integrity is going down the drain.
Where can I get more advice?
With us! If you need help with choosing a suitable CRM system for manufacturing and engineering, or you want to make sure that your CRM project will be a success, talk to our team. We offer a free, independent CRM consultation that will help you get started with your CRM project. During the session, one of our CRM experts will help you define your needs, what your goals are and what tools you need to achieve these goals. Schedule your CRM consultation now!