Infor CRM – Sales and Sales Management
Build your sales pipeline. Build your revenue forecast. Build your business. Infor gives you the right tools to help you effectively manage your sales pipeline, increases intelligence to drive opportunities to a close, and have visibility across your sales team's performance.
Manage leads, opportunities, and activities from anywhere – at the office, on the road, or on a mobile device – whether connected or disconnected, you will have the same quality experience and access to vital information.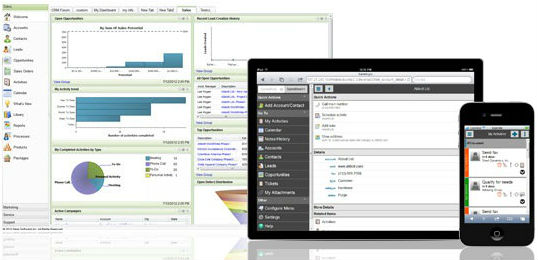 Increase the impact of your sales teams
Personalise interactions with greater customer intelligence. From purchase history to a prospect's birthday, you'll have all their relevant information at your fingertips as well as identifying, and acting on, up-sell and cross-sell opportunities based on order and support history.
Drive hot leads from inception to win faster.
Automate successful sales processes to ensure key stages to conversion steps are never missed.
Stay up to speed on important account activity with automatic alerts and notifications, which you can configure directly in Infor.
Respond to requests immediately – create quotes, fulfil literature requests, and generate sales orders.
Exceed your customers' expectations
Stay productive away from the office and between customer appointments with Infor Mobile on your iPhone®, iPad®, Android™, or BlackBerry®. Update your team and keep them informed in real-time as you enter critical information into your CRM from your mobile device.
Keeps the momentum going during your customer meeting with the ability to access all critical information from your mobile device.
Respond to customer requests for quotes, order status, or literature immediately, during or between meetings, to help you advance your sales.
Record notes, define follow-up activities, and agree your next meeting date and time before you leave your customer.
Help accelerate sales with a truly integrated CRM
Share email, contacts, calendar appointments, attachments, and account information to maximise your team's selling effectiveness.
Understand customer behaviour – Incorporate information from web-based applications and social media services to monitor your customer's behaviours.
Convert closed sales to revenue generating orders faster by integrating Infor with your accounting, finance, operations, and inventory applications.