dotdigital Engagement Cloud
Email marketing automation made easy
Used by over 20,000 marketers worldwide, dotdigital Engagement Cloud (formerly dotmailer) is advanced, flexible email marketing software – designed to be used by marketers themselves, not by a technical department or IT team.
With a raft of features ranging from triggered emails, to dynamic content, to social media and CRM integration, dotdigital Engagement Cloud can offer you everything you need from email marketing software and more!
Why we recommend dotdigital
Email marketing has become an essential part of the CRM mix – part of the expanding portfolio of tools which can help you improve effective communication with your markets, your prospective customers and your existing clients. From the raft of email marketing tools available, dotdigital Engagement Cloud consistently offers a reliable and friendly user interface, advanced features and in-depth reporting at an affordable price.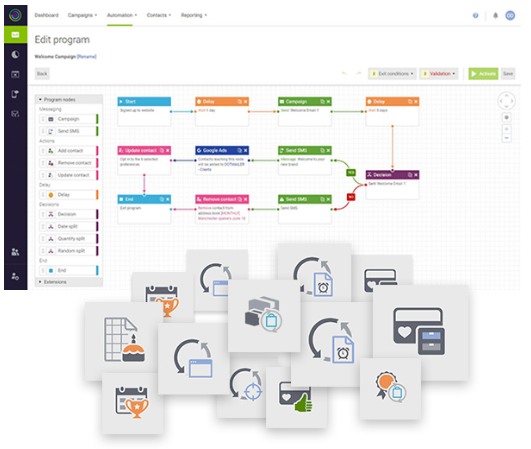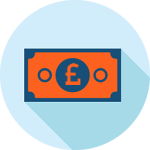 Improve your ROI
With smarter emails, that target the right person at the right time with the right message, dotdigital can help you improve your ROI. dotdigital's industry-leading data Watchdog, for example, will tell you even before you send it, whether your email may trigger spam alerts or not. dotdigital can help ensure your emails are readable on whatever device your customers use.
It's this attention to detail that will help your email get read. Everything dotdigital does is designed to help your improve your ROI.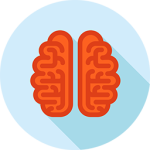 Be smarter, be better
Everything dotdigital does is designed to help make you better at your job. Everything it does makes it simple, easy and quick to insert dynamic data, for example. To track results, there and then. To edit your own emails without waiting for dotdigital to do it for you. EasyEditor, Drag-and-Drop Segment Builder, and the OrderInsight Module.
These solutions and platforms are there to do one thing, and one thing only. To help you become smarter and better, quicker.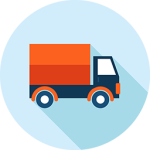 The right support, right now
A 24/7 helpline. Account Management. Award-winning strategists. UK based data centres. Free webinars and whitepapers. The list goes on. Whatever kind of help and support you and your team may need, dotdigital are on hand to provide it.
No matter what kind of support or assistance you need, you only need to know this: dotdigital's team is right behind you and yours.
The best support, delivered.
Built by Marketers for Marketers
So easy to use, you'll be up and running in minutes
Gives you time back to plan your future marketing
Integrates quickly and easily with your existing system
Solutions for corporates and SMEs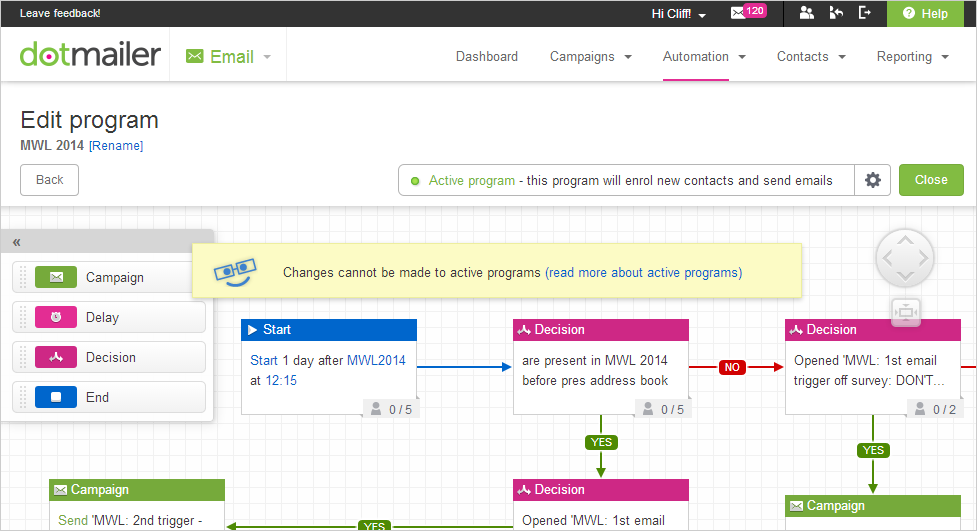 Collecting & Segmenting Data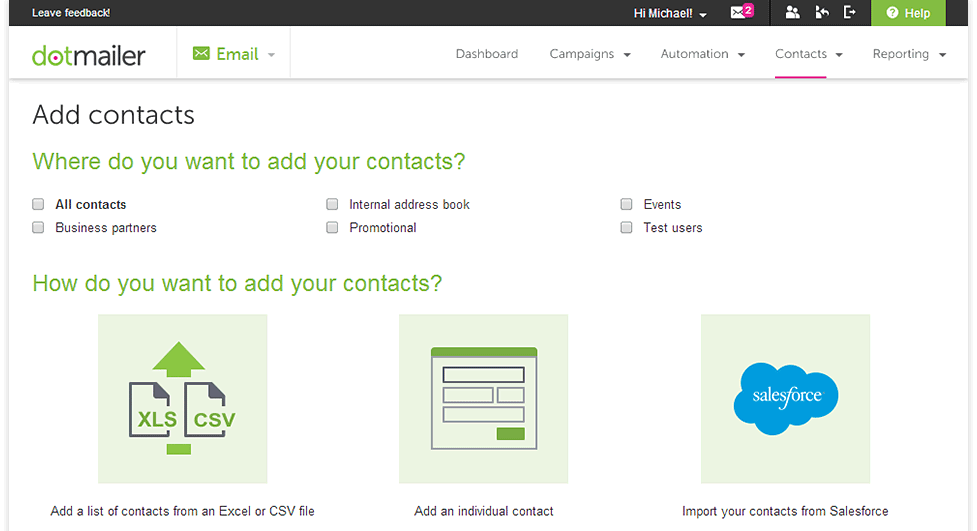 You can load mailing lists and data straight into dotdigital from either a CSV or Excel file, in a couple of mouse clicks. And the system will email or text you to tell you when your data is ready.
dotdigital lets you map the fields in your import files to the data fields you've created in dotdigital, in a really quick and simple way. Once you've done this you can start to personalise your email content and create targeted data segments with our query builder.
Personalised email content and targeted segments like these will drive up your open and click through rates and give your email ROI.
dotdigital automatically finds and removes duplicate email addresses plus any which have previously unsubscribed or hard bounced.
These addresses won't be added to your dotdigital account so you can't email them or send the same campaign to the same email address twice.
dotdigital's Data Watchdog maintains both your and our sender reputations and maximises your email delivery rates. No piece of data makes it into dotmailer without being checked by the Watchdog first!
No email address makes it into dotmailer without being checked by the Data Watchdog first. This predictive system is entirely unique to dotmailer. Using a complex set of algorithms, checks and intelligent analysis tools, our virtual police force scans every row of data before it can be uploaded by any user into dotmailer.
Since April 2009 the Watchdog has made over 73 quadrillion data checks! Where possible, the Watchdog scans and alerts the user of attempts to send to email addresses that lack adequate permissions. So you don't have to spend time rewriting and re-running queries with dotmailer, they will always be up-to-date.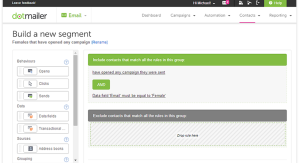 With dotMailer you can easily build sophisticated segments – in a matter of seconds.
Whatever transactional, demographic or behavioural data you hold in your customer database, you can use dotmailer to segment your data into highly targeted, responsive groups. No need to re-write or re-run your segments – dotmailer updates them in real time.
Once you've created a data segment, dotmailer will automatically update it every time a new contact matching that profile is added to your database. Plus, every time a contact record has new data automatically appended to it by the dotmailer Survey tool, your segments will update.
So you don't have to spend time rewriting and re-running queries with dotmailer, they will always be up-to-date.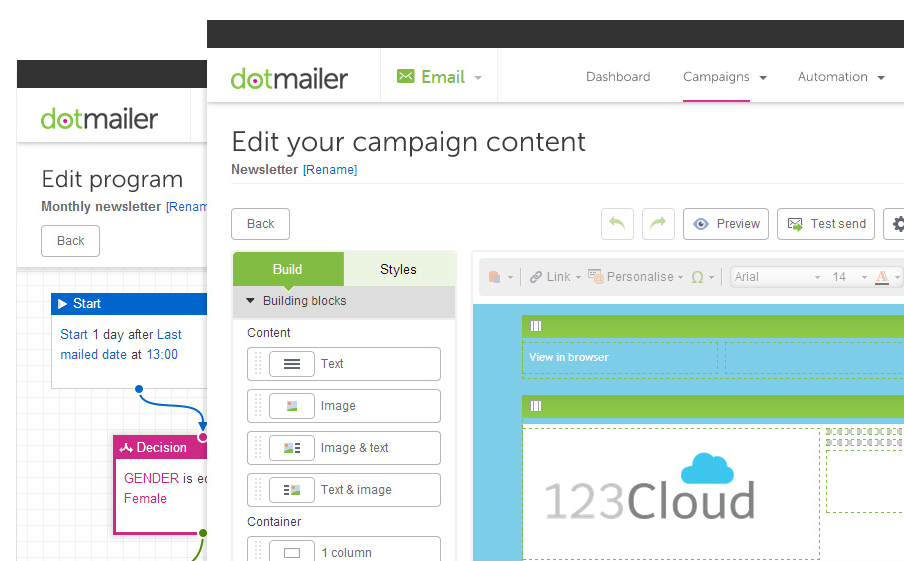 Easily layout, design & customise your own emails, with no HTML coding or web design skills at even faster speeds!
Slash the time you spend editing email campaign templates.
Dozens of fantastic looking free templates to get you started in no time.
Change your email templates exactly as you want – no need for HTML knowledge or IT help.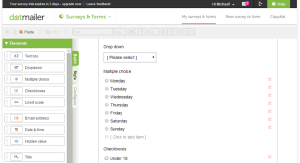 dotdigital's leading-edge, integrated online survey and form-builder tool makes it so easy for you to create great looking online surveys, forms, competitions and response devices.
Now you can build customer engagement, and grow & enrich your database with minimum effort and maximum results.
With dotSurvey, you can create branded surveys that are fully integrated with your email campaigns so the user experience is seamless.
The CopyKat tool built into dotSurvey lets you brand your survey so it looks exactly like its part of your website or landing page – just by typing in the URL of the page you want to clone. Drag and drop editing means you can create any design of survey you want, and do it all yourself – in a matter of minutes – no need for developers, coders, website designers or IT!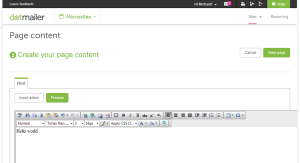 In a couple of mouse clicks you can import HTML and related graphics for any pre-designed template, then edit your content with dotdigital's easy-to-use Classic Editor. You can use the Landing Page Builder tool to quickly and easily create professional looking:
Campaign landing pages
Competitions
'Thank you' pages
Just about any kind of landing page you need, without having to involve designers, developers or IT.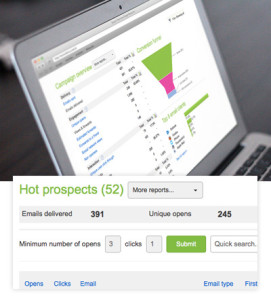 dotdigital's reporting has a wealth of features to help you better understand the behavour of your customers. Complete with presentation-ready printouts, graphical reports, fully exportable data and automated email up-dates, it makes dotdigital's reporting really hot stuff.
Features include:
Delivery and open rates
Links clicked (by link name and destination URL)
Emails forwarded and replies
Bounces and unsubscribes
Emails posted to social network sites
Campaign comparison reports
Individual contact details and actions
Schedule reports to be sent to up to 5 people on either a daily or weekly basis
Auto-generates lists of hot leads for follow-up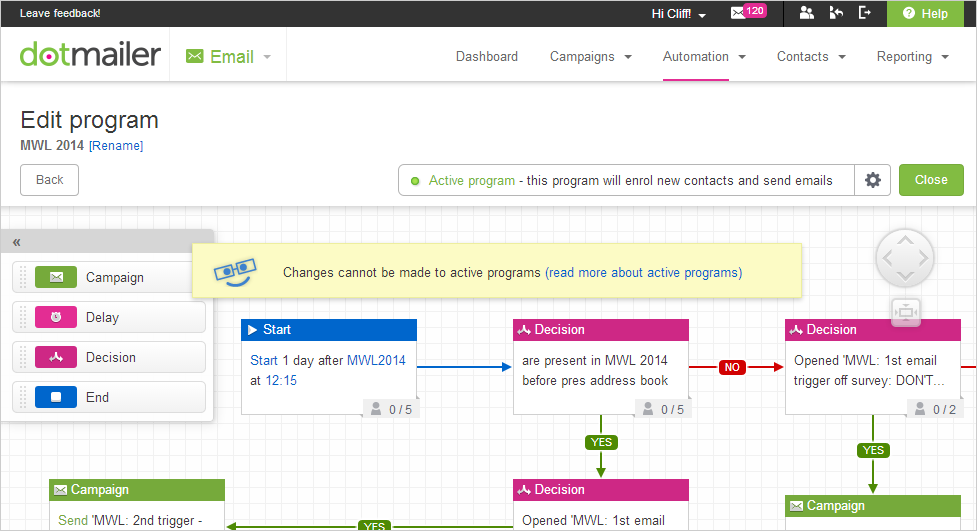 Once you've built your automated programs, you'll want to know how they are performing.  dotdigital makes it easy for you to see, in real time, the journeys that your customers are taking through your programs.  You'll be able to see how many customers are currently, or have ever passed through,  each stage.  And you can drill down to identify any individual at each stage of the journey.
The contact activity report for any customer that's been in your programme contains details of every email they've ever been sent. However, you can now also see what programme they're in, or have ever been in, and what the outcome was.
So with dotmailer reporting by contact is in depth, in detail and in your hands.
As a leading email marketing platform it's unsurprising that dotdigital integrates with a wide range of systems including CRM. Fully integrating email marketing and CRM offers huge advantages for marketing teams looking to get more meaningful results from their campaigns, or add leads to structured nurturing campaigns.
The complete list of CRM integrations is extensive and includes: