Education, Not Training In CRM
This week, Alan Joenn takes a look at how to encourage increased usage and understanding of your CRM system. And why CRM systems training may not work, but education about CRM almost certainly will.
Transcript:
Hello! We're here today to talk about CRM and education – Customer Relationship Management and learning how to use these systems effectively.
In my industry, in the CRM world, lots of people expect there to be training to go with the CRM system. We don't believe that's the right approach. We think that training imparts a method. It teaches people how to use a piece of software, how to use a process that's embedded within that piece of software. What that doesn't do is give people a genuine understanding of what the goals of the CRM system are.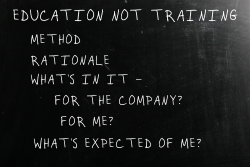 So we believe that training imparts a method whereas education explains the rationale behind the method. And we firmly believe that you need to educate people to use a CRM system (they need to understand its rationale) not just train them how to click the keys and enter information.
So when we run CRM education we try to address three specific questions:
What's in it for the company?
What's in it for me?
What's expected of me?
What's in it for the company is part of the rationale – explaining why your organisation is investing time, effort and money into a new CRM system.
We also need to explain what's in it for me for the individual users of the system and that's been the subject of another video which is part of this series.
We also believe that as well as explaining the rationale to people we also have to outline what's expected of them. Change management is the phrase that management consultants will use, but we need to let people know what they need to do differently now that they understand the rationale of why the company is doing this CRM project and what's in it for them in terms of the personal gains that they'll get from it.
If we can embed the answers to these three questions into the rationale that forms part of CRM education, the system will be more effective, and user adoption will be higher.
You can find out more about CRM and making implementation successful by visiting our blog. We hope you find the hints and tips there of use. Thank you for watching.