How advanced is your CRM usage? Do different departments in your organisation trust your data? Do they collaborate with one another with help from CRM? In our CRM Whiteboard session this week, Alan Joenn takes a look at CRM Maturity and how to gauge the success of your own CRM usage.
Transcript: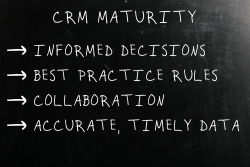 We're here today to talk about maturity in Customer Relationship Management systems: CRM Maturity.
Now most people who implement a CRM system for their organisation have a goal of the system providing them with information. They want to make informed decisions based on customer profiling, customer activity, business development, growth in markets, whatever the goals of the business are.
But in order to do that from a technology base that supports your CRM culture, you need to have some best practice rules operating within the organisation. You need to automate processes; you want your system to alert you to exceptions, things that are outside of the norm of the way that you like to operate.
And if that is to be the case then the data within the CRM system must be usable in a collaborative way. People need to trust the quality of the data before they can make informed decisions based on the best practice rules that you have defined.
And if people are to trust the data and use it in a collaborative way, the data itself has to be accurate and timely.
So CRM Maturity can be defined in this stack:
Informed Decisions
Best Practice Rules
Collaboration
Accurate, Timely Data
The base level thing that you need to do, the foundation of CRM Maturity, is that the individual users of the system have to record their data accurately and timely. Changes in status need to be recorded at the time they happen, not some time later.
If that happens, people can trust the data and collaboration becomes possible and we can start to remove operational inefficiencies like, for example, a marketing department that wants to invite customers and prospective customers to an event but compiles a list in Excel and sends it around to account managers for ratification before they take a decision on which people will be mailed from the list.
If we have accurate data at this foundation level first, that collaboration can be done without the need for the time consuming ratification, and so on.
Once people trust the data and will take decisions on it in this collaborative way, we're in a position where we can start to automate processes; we can let technology make things more efficient for us and then get to the point where the system is genuinely providing us with a basis for informed decisions.
CRM Maturity can be a complex subject and maybe you'd like to know where you stand in this CRM Maturity hierarchy by taking an assessment. Follow the link below to get there.
Thank you for watching!