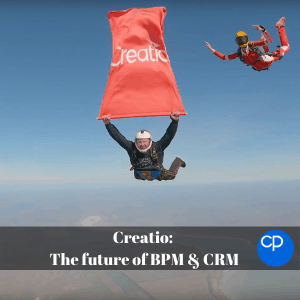 It wasn't very long ago that BPM & CRM were completely separate products. You could reasonably expect to integrate the two systems to help complete the single customer view (SCV), a key indicator for CRM software and culture adoption, which in turn is a success indicator on your customer's behalf.
The days of disparate systems, managing siloed processes, requiring complex integrations have all but disappeared. A growing number of market leaders in the process and customer relationship management areas have combined huge amounts of functionality into a single platform to smooth inter-departmental processes and manage the transition of tasks throughout the company.
With this in mind, we are proud to say that we have selected Creatio (formerly bpm'online) as one of our best-of-breed Customer Relationship Management systems.
Why Creatio?
This is why I think Creatio is such a great tool: The flexibility, features and ease of use that Creatio demonstrates offers unrivalled value for money in the mid-market.
Need a joint sales and marketing platform running on a single database? Done.
Need a customer service platform with access to all client information? Done.
Need a low-cost add-on marketplace to build on the already extensive functionality of a single platform managing all of your customer interactions? Done.
Need a system to eliminate the borders preventing departments from working seamlessly towards a common goal (the customer)? Done.
You can start to see the theme here – there is a huge amount on offer from this platform without spending the sums typically required by enterprise solutions. Even in enterprise scenario's, Creatio really can step on the toes of the established players. It's great to see a vendor listening to the customers, and providing a slick platform at an honest price that does what it says on the tin – really, really well.
Creatio and Business Process Management
One of the design principles that impresses me about Creatio is the idea that if you can draw a process on a whiteboard, you can create it in Creatio. No integrations running on a background engine, no hunting around to put code on buttons or searching libraries for rules that run when records change, oh no, that's nothing less than archaic in comparison.
Everything to do with a business process is managed in one place. It doesn't matter if your process for getting an order to a customer crosses three departments, integrates with two other systems and requires approval from management – the whole process is visible in one area. And that's invaluable in helping you continuously refine and improve the way you work, to make it faster and easier for more customers to do more business with you – or as Creatio themselves say, "Accelerate" your business.
Now you can probably tell I'm already a fan of Creatio! They've thought about so many common challenges that businesses have, and you can see that from the design of their system.
My Top Three Features
Here are just a few cool features to give you a flavour:
There's a button to scavenge the web for Company information

Not only does this save users having to fill in publicly available information, but it's probably more accurate and less prone to spelling errors.
The mobile app is highly customisable

If your sales team only needs to see certain information, you can easily make it so that only the information they require to do their job is there for them.
You can do almost anything from the command bar

For techies like me, it's really helpful to be able to do anything from one place – creating records, searching for records, launching business processes and much more.
If you want to find out more about Creatio and what it can do for your business, please head over to our Creatio web-page or feel free to get in touch with one of our consultants today.