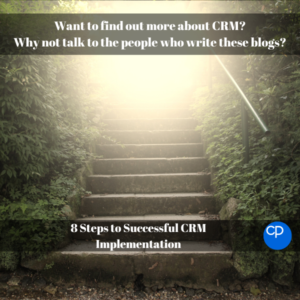 Most flights of stairs have more than 8 steps, 8 steps to successful CRM implementation should be easy, shouldn't it?
Before we get to the steps themselves, you must understand that a successful CRM implementation is a workforce transformation programme and NOT just a technology or IT project. Two questions need answering before you can begin, "What does success in CRM look like?" and "How do you make it simple?".
Coming to a consensus on this as a management team is crucial, when you are all banging the same drum, it is much easier to educate the workforce on how to hit the same tune.
Here are Collier Pickards 8 steps to successful CRM implementation:
Agreement
Everyone needs to work toward the same goals
Your employees may need some time to comprehend the nature of the shift and the initial justification for considering a new strategy for CRM. The more of an "It ain't broke, why are you trying to fix it" mentality there is, the longer it will take to come to a consensus.
Benefits
Benefits can be measured as tangible business outcomes
Software advantages from CRM are simple to identify. Things become better, faster, and easier. Enhanced workflows will cause efficiencies to emerge. However, the primary goal of a CRM transformation is typically to increase customer focus and facilitate commercial transactions. KPIs and milestones should therefore assess your CRM maturity at both the beginning and end of the process. Assessments of the Voice of the Customer and the Voice of the Workforce may also be included in the measurement.
Communication
Keep everyone in the loop
A systematic programme of messages that involves the entire team in the process and your advancement through it is more effective than assuming that messages would spread throughout the workforce.
Successful CRM programmes frequently coordinate the communication effort with the internal marketing team. This implies removing them from their customer-facing, business-as-usual jobs. It's that crucial.
Deployment
Keep it simple and easy to use
Too many CRM implementations start off being overly complicated. Delivering quick wins to the stakeholder community is the most effective way to complete this stage of the programme.
Encourage early acceptance of the new CRM strategy's potential benefits. As your business environment evolves, people will be more eager to collaborate with you and advance the business transformation to a more sophisticated level.
Education
Don't expect people to understand what's expected of them as things change
Create an educational programme that outlines the justification for the change. Explain why the programme is in place, do not just describe how to carry out specific components of the job in new ways.
Feedback
The initial design of your CRM programme does not have a monopoly on success
Pay attention to the people that interact with your consumers on a daily basis and take advice from them. Be prepared to make changes, to shift emphasis and to operate in an agile way to accommodate change.
Additionally, incorporate your objectives for providing feedback into the educational process to let individuals know that you appreciate their long-term participation in the transformation programme.
Governance
Make sure that all angles have been covered
Balance the interests of the shareholders, management, staff, customers, suppliers and, where appropriate, the wider community.
Holistic
Engage the whole business in your renewed customer focus
Not only the individuals immediately associated with the programme and the new technologies you use. An example of how far you should take this comes from NASA in the 1960s. A workplace consultant stopped a janitor whilst he was sweeping a corridor. "What are you doing?" The janitor replied, "I'm helping put a man on the moon." Now that is holistic!
Who is Collier Pickard?
We are a team of independent CRM consultants that know exactly what it takes to get CRM right. We have been operating for nearly 20 years and we use our experience to drive success in CRM for a myriad of different market sectors. We are equipped to consult as well as supply CRM platforms that meet our client's needs.
Every stairway has a handrail and every drummer, at one time, had a coach. Collier Pickard will fulfil both roles for you, just like a handrail, we will guide and support you and just like a coach, we will transfer our knowledge to you and will be there every step of the way.
Where can I get more advice?
With us! If you need help with choosing a suitable CRM system for manufacturing and engineering, or you want to make sure that your CRM project will be a success, talk to our team. We offer a free, independent CRM consultation that will help you get started with your CRM project. During the session, one of our CRM experts will help you define your needs, what your goals are and what tools you need to achieve these goals. Schedule your CRM consultation now!