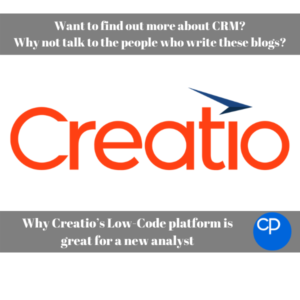 Reading Time: 1min
If you're looking for the next big thing in the development space, it is Low-Code, No-Code. This is the perfect place to start for someone to break into development. Why? Because you don't need to know any code.
Using Creatio's powerful low-code tool – Studio Creatio – Using Studio Creatio makes business process management simple and can accelerate the transformation of any business cycle including the three cornerstones of CRM – marketing, sales, and service.
With the powerful and flexible low-code tools provided by Creatio users without deep technical skills can build new apps and make changes to existing ones. This includes building user interfaces and business logics, defining data models, setting up machine learning models for better decision-making.
Need more reasons to get into Creatio?
Low code/no-code environment massively speeds up "time to value" or speed of solution build.
Powerful visual workflow builder, with great visual debugging tools.
In-depth Academy training articles, certification programmes and functionality documentation.
Responsive, knowledgeable, and genuinely helpful vendor.
Creatio is a growing platform – demand for these skills is on the rise.
No hardcore dev knowledge required, just a good understanding of software design principles, data structures and APIs.
If this sounds like something that you want to be involved with, we are always looking for great developers. Working with us will allow you to benefit from extensive vendor training and certification. We will build on your existing skills and introduce you to the very latest development tools.
We don't expect you to have experience working with all the software that we sell and have every intention of providing you with the resources and experience to become a brilliant developer.
If you're interested, feel free to get in touch with us and we shall see what we can do.
Where can I get more advice?
With us! If you need help with choosing a suitable CRM system for manufacturing and engineering, or you want to make sure that your CRM project will be a success, talk to our team. We offer a free, independent CRM consultation that will help you get started with your CRM project. During the session, one of our CRM experts will help you define your needs, what your goals are and what tools you need to achieve these goals. Schedule your CRM consultation now!