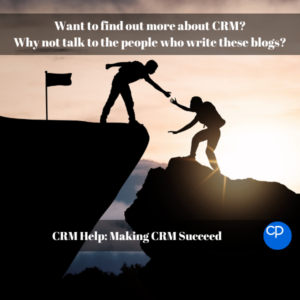 When it comes to making CRM succeed, what do you need to keep in mind? Selecting the right CRM, while key, is not the only factor in determining how successful your CRM journey will be. So, you might ask, 'what else SHOULD I focus on? To ensure your business reaps in the full benefits of CRM here are our key points to consider.
1. Select the right partner
There are a lot of organisations out there that will try to sell you a CRM system. Many may try to differentiate themselves solely on the basis of pricing and/or product features, but if CRM is to be effective, you must look beyond the product and the price.
When selecting a CRM partner, make sure they have the experience needed to support you. Someone who has a track record of making it work time after time, and who will walk you through your CRM journey rather than just selling you software and wishing you luck.
Any good partner will learn as much as they can about your organisation and assist you in developing an awareness of the benefits that shifting the internal culture from a process-centric to a customer-centric one can bring to both users and the business.
The right CRM partner will listen to what you have to say and be able to explain why they have recommended a certain path over others. They will want to hear questions from you about the best approach to do anything so that they may discuss the reasoning with you.
In summary, find a provider who exhibits not only product knowledge, but also a thorough comprehension of the strategy behind making CRM work for your company, as well as a commitment to assist you in getting it right.
2. Understand the "Why"
Understanding why you're using CRM and what you intend to achieve out of it – both at a management and operational level – is critical right at the start of your CRM journey. For example, the company hopes to reduce customer turnover by 50% because of improved customer service. Employees will then strive to spend no time filing management reports because all data is stored in CRM, allowing them to focus on day-to-day client management.
If a project's purpose and objectives aren't clearly stated, it becomes sloppy and vulnerable to scope creep, which can and has led to CRM initiatives deviating from their initial goals, making it impossible to assess success.
Successful CRM projects set out to achieve specific business goals from the start, and they stick to them throughout the project.
From the outset, successful CRM initiatives set out to achieve certain business goals, and they keep to those goals throughout the project.
3. Baby steps
When considering what you want CRM to do, it's all too simple to try to do too much right away. Yes, it is feasible to create a cutting-edge CRM system that is replete with automation and artificial intelligence. However, if the change is too significant, you will most certainly discover that:
The uptake is poor due to increased complexity compared to current processes
The build process takes so long that the software no longer matches what the business requires
Users start shortcutting as the masses of features just slow them down, rather than helping them do their job, which impacts data integrity and value
When you handle one area at a time, it's lot easier to achieve a good CRM installation. First, transfer your Excel data into a single system to avoid data silos – CRM is all about having a single perspective of the client.
Once you've sorted it out, you can start filling in the gaps in your understanding of how Sales and Marketing interact with your consumers, as well as what they're buying and why (helping you to identify cross-sell and up-sell opportunities).
You may then create an accurate sales funnel without having to submit frequent reports, as well as much more. And that's only the beginning – there's always room for additional improvements in effectiveness, productivity, and risk reduction, and the good news is that CRM can grow with your company.
Just remember to take things one step at a time and concentrate on the short wins/gains first so that others can see the results. This, in turn, aids them in comprehending "Why" they are commencing on this CRM endeavour (see second point above).
4. Finite deadlines
The success of CRM projects is often evaluated by just two questions:
Was it on time?
Was it within budget?
Of course, there's more to it than that, and one of the most overlooked questions is "Did we accomplish what we set out to do?" It's critical to strive to stay inside each of these parameters as much as possible so that CRM is perceived as a success rather than a waste of money.
Here are some tips that might help you stick to deadlines and other project boundaries:
During CRM projects, great recommendations for new functionality do arise, and the best approach to deal with them is to think: If it helps us achieve what we set out to achieve and there is time in the project, do it. Otherwise, focus on the fast victories first and return to it once the method has settled in and demonstrated its worth.
Make sure you have adequate time to devote to the CRM project entirely. It will need dedication from both you and your CRM partner, so make sure you don't take on too much other work and lose sight of CRM. If you aren't sure whether a software change or tweak is needed, don't do it. It costs nothing and you can always revisit it later
Always keep your CRM partner up to speed so that any difficulties that might lead to lost project time are discovered early; for example, it's preferable to see customization while it's being done and ask for adjustments than to wait until the CRM project is finished and prettied up to ask for tweaks.
Hopefully, this has inspired you to begin your CRM journey in the proper direction. Give us a call if you're not sure where to begin or just need some objective guidance.
Where can I get more advice?
With us! If you need help with choosing a suitable CRM system for manufacturing and engineering, or you want to make sure that your CRM project will be a success, talk to our team. We offer a free, independent CRM consultation that will help you get started with your CRM project. During the session, one of our CRM experts will help you define your needs, what your goals are and what tools you need to achieve these goals. Schedule your CRM consultation now!