Infor CRM – Customer Service
Enable service and support teams to quickly resolve customer issues and deliver a quality customer experience that builds loyal, profitable customer relationships. Quickly locate resolutions to problems, offer convenient self-service options to customers, and get robust reports that tell you if issues are being resolved in a timely manner.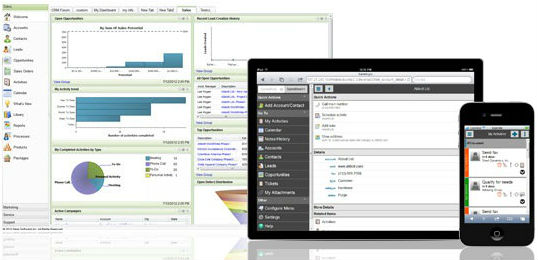 Settle urgent matters swiftly
Infor CRM includes Speed Search, designed to enable you to locate the information you need about your clients as you need it, allowing you to resolve customer issues with ease. The same careful design ethos gives you quick and effective access to customer history so you can offer even greater levels of service than have previously been available. Infor CRM has been designed to help you exceed your customers' expectations time after time.
View all customer interactions across your customer-facing departments in a single, easy-to-use interface.
Understand purchase history so you can up-sell and cross-sell additional products or solutions that would benefit the customer.
Integrate with back-office solutions so team members have access to vital information such as credit history, payments, open invoices, inventory, and shipping information.
Create and assign tickets
Create detailed service tickets with ease, containing information such as a unique ticket ID number, contact info, status, urgency, assignment and more, then automatically assign them to the appropriate resource based on the product, a particular skill, or any other criteria you require. Using Infor CRM you can stay on top of hot issues and resolve issues before they become real problems.
Assign status and urgency to tickets to ensure critical issues are handled quickly.
Schedule follow-up activities, action items, meetings, and phone calls on open issues.
Manage customer service contracts.
Track service contract details, such as benefit level, price, and time or revenue remaining.
Understand and resolve product issues
Monitor and resolve issues with your products using Infor CRM. From tracking fault details to handling return management you can monitor and deal with your product defects and returns with ease.
Track fault details including ID number, severity, priority, status, problem type, description, and source.
View associated tickets, returns, attachments, and asset information.
Use return management tools to create, assign, update, and monitor returned assets so returns are processed efficiently.
Improve customer experience and reduce costs
Infor CRM enables you to provide your customers with convenient self-service options, reducing time spent contacting your team for assistance with simple issues.
Empower your customers to get support they need 24/7 with the Infor Self-Service Web Portal.
Customers can view, add, or edit tickets and submit comments and attachments via the web.
Automatically distribute tickets to your service and support reps based on criteria you define.
Gain insight into team and product performance
Allocate your resources based on customer requirements and understand the ebbs and flows of your team using Infor CRM.
Quickly analyse ticket volume and trends, at the customer, product, or category level.
Create reports to understand call turnaround times, follow-up statistics, escalated tickets, unresolved tickets, and much more.
Gain a deeper understanding of your team's performance as well as service and support levels using  Infor Advanced Analytics.