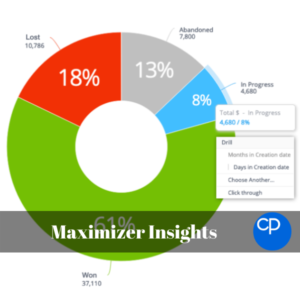 Maximizer now gives you the option to have embedded business intelligence. As well as the brand-new features introduced in CRM Live 2020, Maximizer is also introducing Insights. Bring the power of embedded business intelligence and the analytical and graphical power that comes with it.
Freedom from spreadsheets

Insights means that you no longer need to export data, import into spreadsheets, and manually build charts to provide excellent reporting to your team and executives.

Visualize and explore data

Look at the big picture or drill down to dynamically explore details. Using Maximizer 'Click Through' utility, you can easily access all the data within the report.

Start and end your days here

Insights provides the most important pieces of information at your fingertips so you will always know what to focus on.
For a more in-depth look at what Insights will bring to your business, here are some of the key features:
Visualise data

Maximizer provides pre-built templates so you can get started from the get-go, or Collier Pickard can help you build bespoke dashboards that suit you and your business.

Dynamic dashboards

Using Maximizer's dynamic dashboards, users can now toggle data on and off as needed or hover over legends to help filter and visualise the data that is important at the time.

Calculations

Insights already has standard formulas built-in, meaning you can calculate all the KPIs that you need immediately. Collier Pickard can also help you set up bespoke formulae that better reflect the data you want to focus on.

Drill down

Seamlessly go from the big picture to the smallest details using Insights Drill Down Feature.

Click through

Need to access the data behind the Insights? You have direct access to your full CRM records through your dashboards.

Goal Tracking

You can quickly switch between the team view and individual view allowing you to set your own goals and see the overall progress your team is making.

Exporting

Insights allows you to export the reports that you need. If you only need one widget from the dashboard, or, want to export all the information in front of you, Insights will let you do that.

Limitless Insights

There is no limit to how many dashboard and widgets you can have. Create a series of dashboards for the directors, teams, or individuals.

Collaboration

Easily share dashboards with team members or send them in an email as a PDF.
Insights is an easy-to-use self-served analytics add-on that will help you to make data-driven decisions and reveal trends and patterns in your CRM data. Whether you want to understand your existing pipeline, know which sector your clients are coming from, or forecast future revenue, Maximizer Insights can do it all. Get in touch with your account manager to learn more.
Maximizer is currently running a special offer for new Maximizer clients, if you sign up to use Insights as well, it will only cost £30/user/month. This offer is only available until the end of August, so get in touch now.
Where can I get more advice?
With us! If you need help with choosing a suitable CRM system for manufacturing and engineering, or you want to make sure that your CRM project will be a success, talk to our team. We offer a free, independent CRM consultation that will help you get started with your CRM project. During the session, one of our CRM experts will help you define your needs, what your goals are and what tools you need to achieve these goals. Schedule your CRM consultation now!