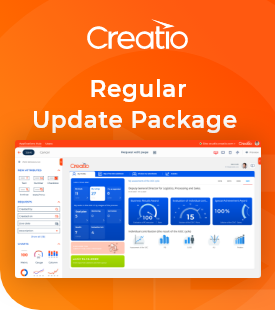 Creatio has just announced their most recent update – Creatio 8.0.1.
Here's everything that you need to know about the update:
NO-CODE PLATFORM
Freedom UI Designer:
There is a new "Gauge" chart type; a new "Slider" element for displaying and changing a number within a preset range; inner layout management options were added to tabs and expansion panels; a new ability to specify all available user actions in the action dashboard settings: call, email, feed message, or task; a new ability to filter chart and metric data by the parameters of the dashboard location page.
Business processes:
An innovative AI suggestion mechanism was added to the Process Designer, which displays a menu with potential further process steps as the user adds elements to the working area of the Designer. The suggestion mechanism generates recommendations for each user individually based on their previous decisions as well as best practices for business process setup in Creatio.
Data management:
There is a new ability to customize list columns while working in an app; a new ability to add folders to favorites; an improved loading time of Freedom UI pages.
Development tools:
Automatic addition of package dependencies when binding configuration data.
OUT-OF-THE-BOX CREATIO SOLUTIONS
Mobile app:
It is now possible to upload multiple files from a mobile device simultaneously; a new admin ability to disable synchronization on the app start.
Telephony:
A new connector for Asterisk PBX is now available in the beta mode. It supports Asterisk 16 and 18 LTS with the ability to simultaneously transfer attended and blind calls, automatic signal reception on callback, daily logging, and other features.
If you want to find out more about Creatio 8.0.1 or how Creatio can help accelerate your business, get in touch with us today.
Where can I get more advice?
With us! If you need help with choosing a suitable CRM system for manufacturing and engineering, or you want to make sure that your CRM project will be a success, talk to our team. We offer a free, independent CRM consultation that will help you get started with your CRM project. During the session, one of our CRM experts will help you define your needs, what your goals are and what tools you need to achieve these goals. Schedule your CRM consultation now!