CRM doesn't just involve a piece of software. In order for it to function as intended you need to adopt the right strategy for your business. In this week's CRM Whiteboard session, Alan Joenn discusses how to formulate a CRM Strategy.
Transcript:
Hello. Today we're going to talk about CRM strategy and try to help you in the techniques you need to employ in order to define a good CRM strategy for your business.
Now, an excellent starting point for defining a CRM strategy is to establish what your ideal customer is. If you could attract just the perfect customer that had a strong relationship with you, that you retained as a customer for a long period of time, that person will have characteristics and attributes that you should be able to articulate and define and breakdown into a profile.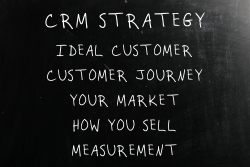 As well as defining the ideal customer you also need to define the journey that that customer takes with you from the point where they've never been a customer, to their first engagement, developing a qualified sales opportunity, bringing them on board as a customer for the first time and then developing the relationship into a long-term long spending pattern.
You need to do this within the context of the market in which you operate because ideally the way you sell will exploit your USPs, your differences, your uniqueness in the market in order to attract the ideal customer in the first place.
Now you might need to do some research in this respect in that the ideal customer will be listening to messages which are delivered by other people in your market and therefore the definition of the journey that you want them to take involves breaking down the individual steps that you expect them to take and being able to apply some measurement to the way that this strategy will unfold as a culture within your business (culture being this is the way we do things around here). If that culture is articulated in a CRM strategy well, then you should be able to improve the numbers of ideal customers that you attract, get good conversion rates going through the customer journey and hopefully increase the share of customers you have within your chosen market.
Thank you for listening!