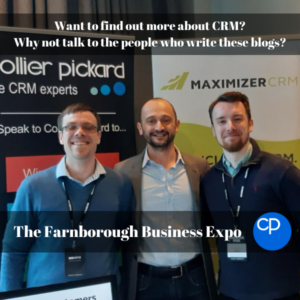 The Farnborough Business Expo – A face-to-face business expo? Really?
Yes! It was fantastic.
For me, nothing is quite as exciting as the thrill of the sale. That excitement was somewhat diminished by the pandemic, I found myself having to adapt very quickly to an environment where earning trust was extremely difficult.
The virtual environment made it possible to make sales, but I must say that as well as making it difficult, it sucked the joy out of it. People buy from people and I can swiftly prove my humanity in a face-to-face meeting, it would take three times as long over Zoom and it is nigh impossible over email.
If you could have seen the smile on my face at the Farnborough Business Expo, you would have understood exactly how important it is to be in a position where people with genuine business problems are on the lookout for solution providers that operate with genuine care.  
This is who we are at Collier Pickard, we are an independent CRM consultancy that focuses on solving problems for our clients. We delight our clients by ensuring that they have every tool they need to delight their own. 
I was joined by my colleague Max Watkins and we were both not quite sure what to expect from the event. Would people come? Is CRM a problem for those that will come? Will they understand that we are not software pedlars and that we only partner with people where we know we can give their investment back? Well, we did not have to wait long to find out.  
The event opened to the public at 10h00 and by 10h45 we had a queue of people at our stand wanting to find out more about CRM. I battled to contain myself, this was paradise.  
We had a really healthy mix of prospects looking at CRM solutions as well as other businesses and consultants whose clients were struggling with CRM. They approached our stand to learn whether or not we are a company that can be trusted.  
I have 12 new connections, 6 prospects who need a genuine CRM partner and 6 businesses looking to retain their clients by having a genuine business partner solve their clients' problems for them. 
As an independent CRM consultancy, Collier Pickard has been around for 18 years. Our core team of senior solutions architects and consultants have been in the game for 30 years.  
We use our passion for solving problems as a guide when it comes to partnering with our clients and utilise our experience to drive results whilst always being honest, even if what we have to say is not what our clients want to hear. 
We have subsequently signed off on a few more exhibitions for 2022, please come and join us. 
Can't wait that long to discuss CRM? Feel free to get in touch and let's see what we can do to help. 
Where can I get more advice?
With us! If you need help with choosing a suitable CRM system for manufacturing and engineering, or you want to make sure that your CRM project will be a success, talk to our team. We offer a free, independent CRM consultation that will help you get started with your CRM project. During the session, one of our CRM experts will help you define your needs, what your goals are and what tools you need to achieve these goals. Schedule your CRM consultation now!