The majority of us spend a vast amount of time using email as a way of communicating and sharing information with others. And if you're using a CRM system, like Maximizer CRM, the ability to quickly and easily store relevant information in the system becomes key. So what are some of the ways in which you can do this in Maximizer CRM?
There are several ways to use email with Maximizer CRM Web client, which generally mirror what you would do with Maximizer window client. Let's take a look at each option.
Outlook Integration
The most used functionality is the Maximizer toolbar for Outlook, which can be used to save incoming and outgoing emails directly from Outlook into Maximizer. For instructions on how to configure your Outlook with Maximizer CRM, check out this video blog.
Although we would always remind you that Outlook should never replace your use of Maximizer CRM, there are some practical advantages of using the toolbar for Outlook:
You can save emails to Address book entries, Opportunities or Cases from within Outlook.
You can use this toolbar without Maximizer CRM being open.
You can create contacts and cases in Maximizer CRM directly from Outlook.
You can add email addresses from Maximizer directly into an email in Outlook.

It's worth noting here that if you have been using the Maximizer CRM Windows client, then this toolbar replaces the old toolbar that you might have had installed then, as well as the email window that the Windows client uses.
Sending emails within Maximizer CRM
It's easy to send emails from the Address book within Maximizer – and there are a couple of ways you can do this.
If you retrieve the Address Book entry that you want to email, then select Write Email from the Actions menu (or right mouse click and select Write Email) you can send an email directly from Maximizer without needing Outlook at all: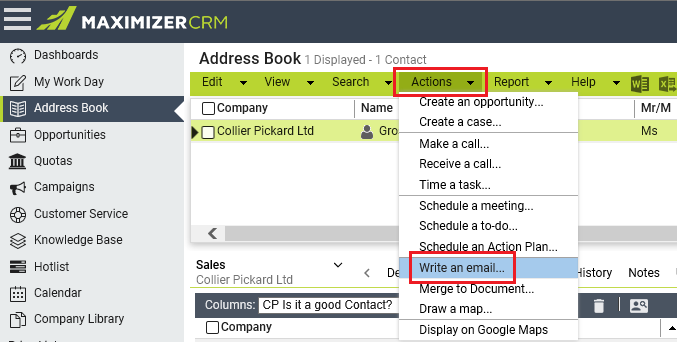 You can also use predefined email templates when sending emails via Maximizer CRM.
If you want to send to multiple people, then this method can also be used. Simply create a list of Address Book entries (normally using an email template to merge details) and follow the steps as above. This is what we refer to as a "Quick Campaign".
It's worth noting that emails that are sent in this manner are sent from the Maximizer server as your user account – the emails don't go through Outlook at all (you can choose to cc yourself into the email). Your database must be configured for this to work.
Sending email campaigns from Maximizer CRM
You can also send automated marketing email campaigns from Maximizer, and it works via a campaign template that you create in the Campaigns module. The campaign gets sent to a list of subscribers at a specific time and date. Stats like opens, links clicked and unsubscribes can be captured.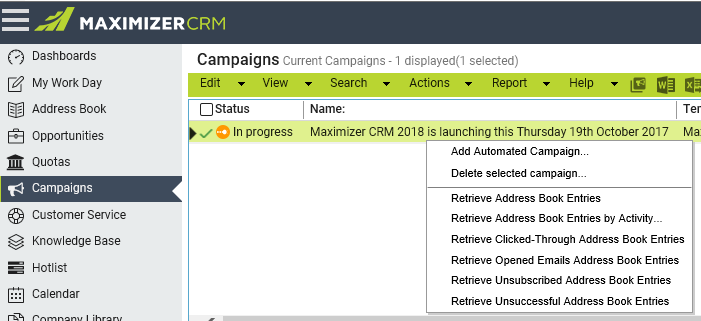 This functionality is the same in the Windows client. All emails are sent directly from the server and do not go through Outlook. Your database must be configured for this to work.
If you'd like to know more about emails and campaign management in Maximizer CRM, get in touch with us!