Reading Time: 1min56s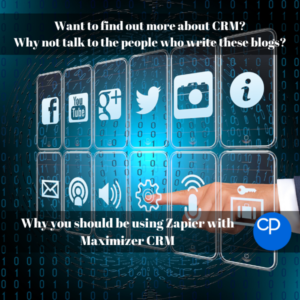 Whether on your own, or working with a team, business is hard. Tedious, manual tasks like data entry make it harder. Especially when what you want to be focusing on is the business side of things. Ensuring you provide the care and consideration you want and need to devote to your clients. Sure, everyone is talking about API's that will reduce manual data entry, and automatically move data between systems – but who amongst us knows how to code at that level? What we need is something to Zap the data between systems for us, and eliminate all that tedious data entry. What we need is Zapier.
What is Zapier?
Zapier is an excellent online automation tool that connects thousands of applications.  Many well-known applications work with Zapier, such as Gmail, Slack, Mailchimp and many more! Zapier allows you to connect two or more apps to automate repetitive tasks without having to code or rely on developers to build the integration.
With Zapier you can create "Zaps" which are workflows that will connect every application your business uses. For example, you can automatically add new Eventbrite attendees to your Maximizer contacts.
It doesn't end there. Zapier has thousands of templates to help you set up your Zaps. On their site, you will find templated Zaps for popular applications like Gmail and Facebook which can be adjusted to do just what you want.
Zaps can be collaborative when you share them on your Teams account. If you are going solo though, Zaps are easily manageable all from your Zaps page, where you can automate all of your tasks in the background and get back to the real work. Do you have a lead from social media? Kerblamo! The data has already been automatically inputted into your Maximizer CRM.
The best thing about Zapier? You can use a limited version without paying a single penny. If you want a little bit more, however, a premium version of Zapier is available – there are plans that range from Starter, Professional, Team and, Company which allow for features ranging from customisable and conditional Zaps to SAML Single Sign-On and live training.
If you are like me and somewhat of a commitaphobe or simply just unsure of what features your business needs, and what it can do without, you also have the option for a fourteen-day free trial so you can see what works best for you and your business.
Why use Zapier with Maximizer?
While Maximizer manages clients, Zapier will save you time by bringing automation to the business tools that you already have. With this perfect duo, managing your business will be effortless and all you need to focus on, are your clients.
Using Zapier with Maximizer CRM allows you to have all your customer data in one place without manual input or having to wait for your colleagues to transfer that over to you. It is the bridge between Maximizer CRM and the rest of your software stack. When a company has data in multiple places, but some data is only available on certain systems, this is known as 'siloed data'. With Zapier however, you can process and store all your siloed data with the push of a button.
If you are interested in Zapier and how it will benefit your Maximizer experience visit our web page here or alternatively, please feel free to get in touch with us directly for more info here.