How many of you are using Maximizer's "Toasters" (i.e. the Notification Manager) on a day-to-day basis? This feature first appeared some time ago now, in Maximizer 2017 R2. It's a really handy feature but it's fairly well hidden away so unless you know where to look and how to put it to good use, you may be missing out on using this great little tool to help keep you informed about what's going on.
So if you haven't been using Toaster, what is it exactly? Well, the idea is that you – the individual user – receive notifications relating to activity within Maximizer that may affect or interest you. So a Helpdesk user such as myself might simply want to be alerted if another user assigns me to a Customer Service Case. If you're a Sales Manager, you might want notifications informing you of new sales opportunities that get assigned to you. If you're a Director, you might want notifications alerting you to activity changes in various areas of the business. You get the picture.
So how do I use Toasters?
You can manage your Toasters by hovering over the Administration menu then clicking on Notification Manager: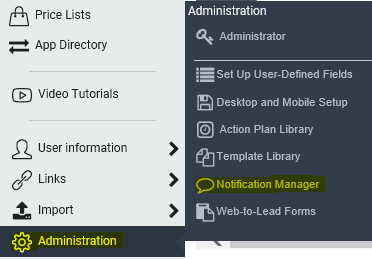 In my example as a Technical Consultant, I want a simple notification that lets me know if another user has assigned me to a Case. To create this I've selected the Customer Service module: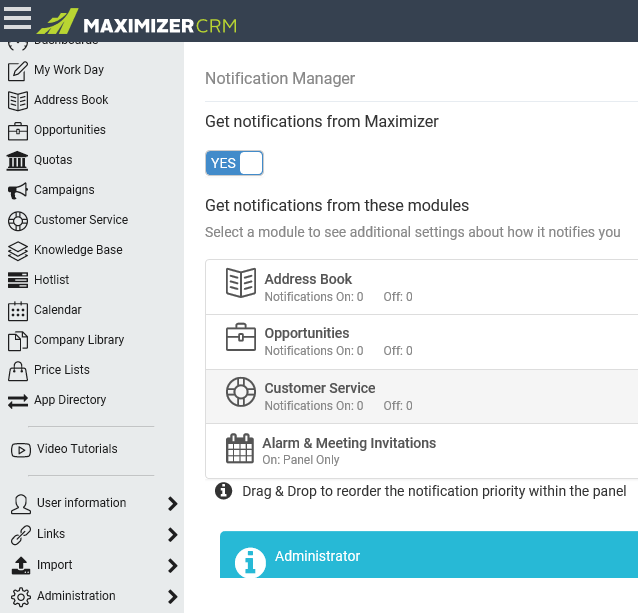 You can choose the number of notifications that are visible in your panel as shown below. Next, click the "Add Notification" button: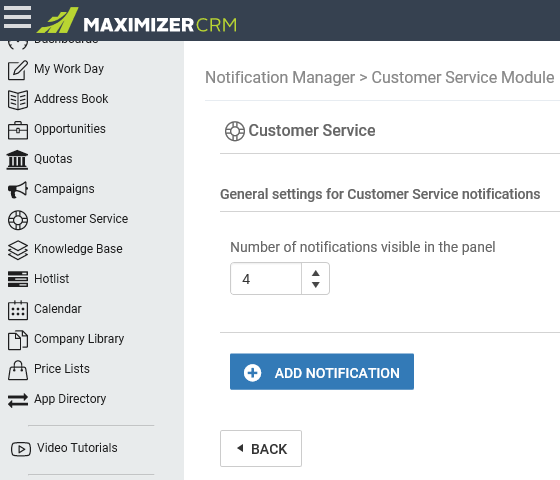 Then there's a three-step creation process with questions to answer:
What will trigger the notification? Do I want to receive a notification whenever something changes, or just when a new Case is created? (In my case, I selected the former).
What conditions are in place? Which field, and which values need to apply? In this instance, I'm looking for the 'Assigned To' field to be set to 'myself'. And just like a Saved Search, I can apply multiple criteria.
How do I want the notification to look? This is particularly useful as it's eye-catching and literally helps alert you to certain changes. For example, if you're setting notifications for Closed Opportunities, you can select red for Lost and green for Won.
Going back to my example, now, when a new Customer Service Case has been created, I receive a notification that looks like this: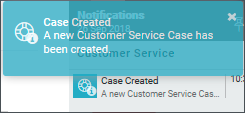 Other examples may look like this… here's a Toaster Notification for a meeting:

And here are two Toaster Notifications – one for an abandoned opportunity and the other for a new Address Book entry: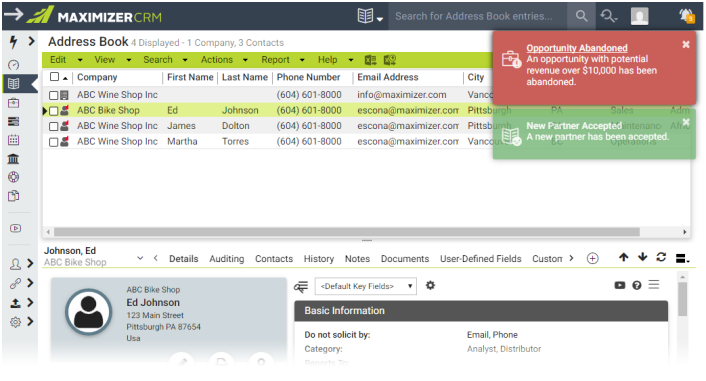 There is also a Step by Step guide to setting up your notifications in the Feature Review Guide for Maximizer CRM 2017 R2. Alternatively, just get in touch with us if you need further help!
Meanwhile, let's raise a toast to Toasters!