Opportunities in Maximizer CRM are designed to help manage all your future potential revenue. To help understand when you might expect each order, Sales Opportunity Processes guide and inform. If you want to really master opportunity management in Maximizer, here are our top tips.
When you create an opportunity (or assign a new Sales Process to an existing one) Maximizer creates a copy of all the current stages (and percentages) for that Sales Process for the opportunity. It needs to do this so that stage aging can be tracked. Stage aging helps you to see which Opportunities are stuck when compared to their expected progress.
Example of stages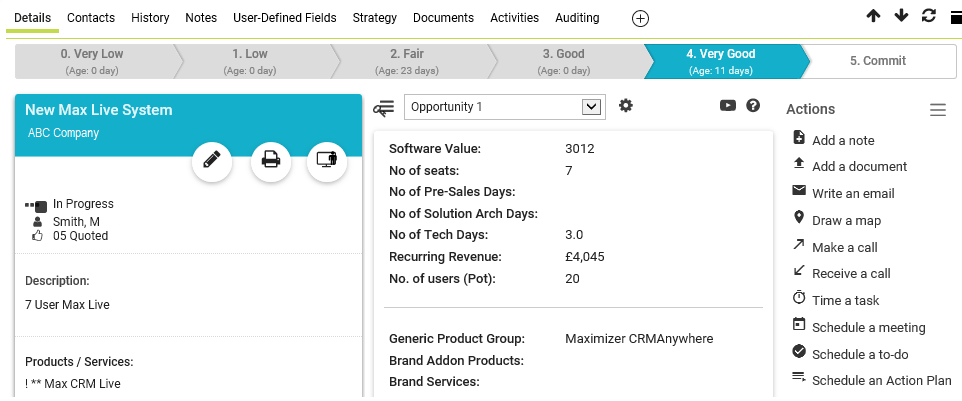 Any changes made to the Sales Process Stages after an opportunity has been created makes no difference to the existing opportunities. Only new opportunities will see the changed values.
Some FAQs
Q: If I rename an Opportunity Stage, does it flush back and change all the old occurrences?
A: NO – renamed stages only affect new Opportunities.
Q: Can I still select the old stage name on existing Opportunities?
A: YES.
Q: If I delete a Stage, does it flush back and clear them all out?
A: NO – deleted stages only affect new Opportunities. You can still select the deleted stage on existing Opportunities.
Q: Can I apply the changes to an existing Opportunity?
A: YES. If an existing Opportunity is changed to another sales process then back to the original process it sees the changed stages.
Q: Can I find out if I have multiple processes?
A: YES – by clicking on the Process drop down and seeing if there are more options, other than 'Default Process' available.
How do I add a new Sales Process?
New processes are created in the Opportunity section of the administration tab. This gives you some more options: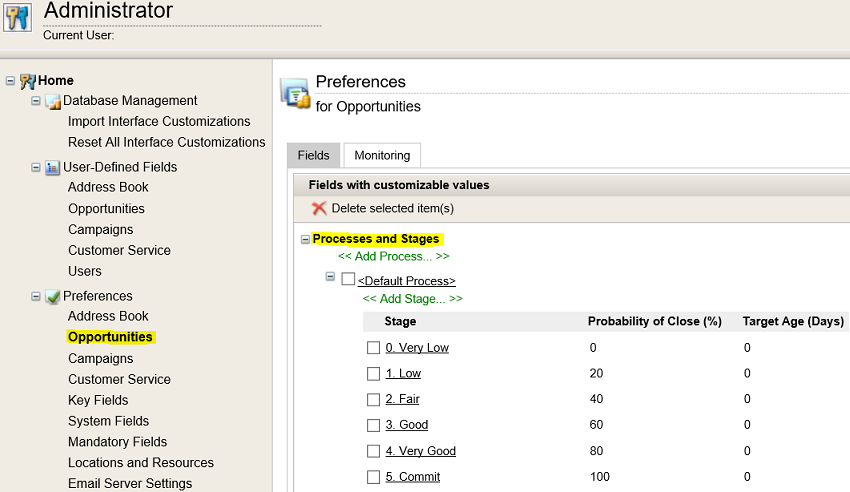 If you DUPLICATE an existing opportunity then it remembers the old stages as well.
If you add a new Process you CAN select this and change existing Opportunities.
If you change the Process, save the Opportunity and then change the Process back to the original one, you can then select the revised Stages.
Don't forget – If there is only one Process on the database there is no way of selecting the revised stages on existing opportunities
Are there any other reasons why I might want more Sales Processes?
YES! I'm a big fan of having a low-cost method of handling low-value projects, so while a complex Process helps you manage all the stages of landing a large, complex bid, it can be over-kill on a small repeat order for an existing client.
If you have maintenance Contracts that renew, then it's a much simpler Sales Process – there is no "Discovery", "Pilot" Stages and a quicker-to-use Process is good enough.
If you've any questions, or need help – on site or remotely – with this or any other part of the functionality, then please contact us on 01959 560410 or support@collierpickard.co.uk