There may be instances when you want to find out who, in your Maximizer CRM system, is located near a certain location. For example, if you're in marketing, you may want to know who is in a particular area when planning seminar invites or regionally focussed campaigns. Or if you're a sales person, you might want to maximise your use of time when out of the office visiting clients, prospects or suppliers… "Who else can I visit whilst I'm in this area?" So how would you conduct this search?
Here at Collier Pickard we've created an add-on tool called Maximizer Proximity Search that makes it easy for you to search for companies in your Maximizer CRM system that are located within a specified area of your choice. You can even choose how narrow or wide you want to do your search.
So how does it work?
First of all, you select the company that you are visiting or interested in and select "UK Proximity Search":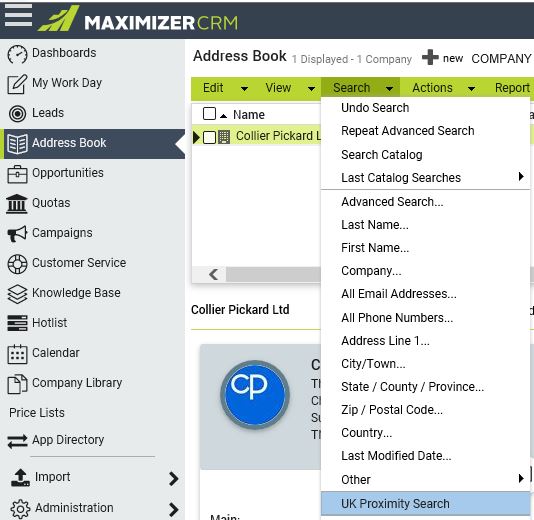 The tool then takes the first part of the postcode from this record and calculates all of the other postcodes in the database within your specific distance (you can choose between miles and kilometres). You can also choose to retrieve Companies & Individuals, Companies only, Individuals only or Contacts only: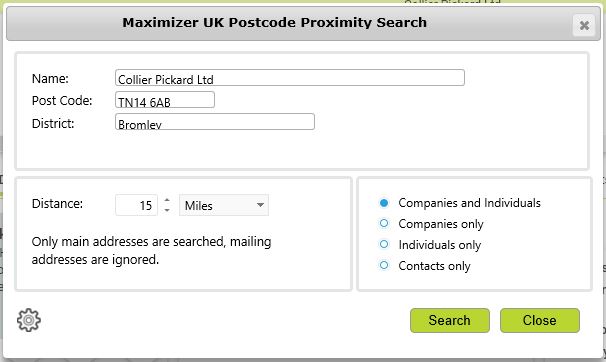 When you're happy with your search options, click on "Search" and the tool will retrieve all relevant records and display them in your Address Book in Maximizer. It's that easy!
Contact us if you want to find out more about Maximizer Proximity Search, one of our many add-ons for Maximizer CRM.