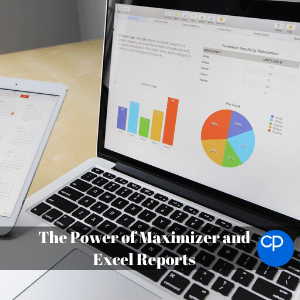 Excel is a powerful reporting tool, providing options for both basic and advanced users. One of the easiest ways to create a report in Excel is by using the Pivot Table feature, which allows you to sort, group, and summarise your data simply by dragging and dropping fields.
What if I told you that you can export your data from Maximizer straight into Excel with pivot tables and reporting tools already created?  This can save you a lot of time in building reports for directors or anyone else that might require the reports.
The Maximizer to Excel integration allows you to dig deeper into the information that you hold from all of the data across your business. You can quickly export to Excel whenever the need arises with a single click in Maximizer CRM.
How do they work?
By exporting your Maximizer entries to an Excel spreadsheet and using the sorting, filtering, graphing, and formatting functionality of Excel provides detailed reports on your Maximizer data allowing to guide your business on decisions informed by the data that you collect on a daily basis.
You can access Excel reports via the Report menu in the Address Book, Opportunities, Customer Service, Campaigns, and Hotlist pages.
Each Excel report template is associated with a column setup. The selected column setup determines the fields that are included in the downloaded report data and should match the fields used in the report.
What can you do with the reports function?
At a click, export data from Maximizer to Excel for deeper analysis and sharing. Using the data from Maximizer and the functionality provided by Excel opens the doors to in-depth analysis and greater insights into how your business runs and where the money is coming from.
Empower your team with fast Excel quoting. Using Maximizer and Excel functionality allows you to build standardised quote templates and populate them with company, customer and product details. Then sync the quoted values with your opportunities module for much more in-depth forecasts.
Dig deeper into your sales, marketing and customer service data with interactive Excel reports. Choose from Maximizer's built-in library of report templates or upload your own, and populate it with your favourite data points at a click.
If you are looking for something more complicated, the team at Collier Pickard can build bespoke reports that pull data from anywhere within Maximizer. These will show you exactly what you need to see, allowing you to view anything, the average time from enquiry to order, to the average size of deal per salesperson. As long as the data is there, we can build reports on anything.
How Collier Pickard can help
 We recently had a report requested from a loan provider showing how their opportunity revenue has progressed week by week over the last year, with the report split by outcome (paid out, in progress, declined, etc.).
We then provided a bespoke report taking data directly from Maximizer to produce a stacked bar chart providing the senior staff with a snapshot of their opportunity performance.
The same client also asked us to create a report allowing them to analyse the performance of their sales team. For this, we created a simple pivot table showing multiple variables such as average loan revenue and number of sales.
This report also collated revenue over the previous year and contains filters allowing the user to view any period of weeks or months within the time frame to be filtered.
Using excel in conjunction with your Maximizer CRM can give you some powerful insights in an easy to digest form. Allowing you to quickly see in-depth analysis on any aspect of your business can help guide business decisions in the long-term and make your business more profitable.
This is simply a brief look at what you can achieve by using Maximizer and Excel together. If you would like to talk about how you can use Excel reporting within Maximizer, then please get in touch.
With Collier Pickard, you have access to over 25 years of experience in the industry and the expertise that comes along with that. We have been helping a variety of businesses throughout a variety of sectors for many years and we'd be pleased to help you.
Where can I get more advice?
With us! If you need help with choosing a suitable CRM system for manufacturing and engineering, or you want to make sure that your CRM project will be a success, talk to our team. We offer a free, independent CRM consultation that will help you get started with your CRM project. During the session, one of our CRM experts will help you define your needs, what your goals are and what tools you need to achieve these goals. Schedule your CRM consultation now!