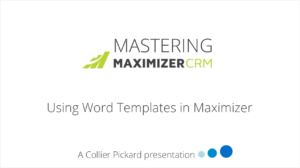 Maximizer CRM offers many out-of-the-box features that can make your working life a lot easier. Our focus in this blog is on Word Templates, a feature that has been around for a while and has improved over the years. Maximizer's Word Integration enables you to use Microsoft Word to create Maximizer merge documents and templates for any standard documents you are sending out regularly, which will save you time and ensure you are sending out documents in a consistent, corporate style.
Watch our Mastering Maximizer video-tutorial here:
Summary of video:
Maximizer toolbar in Word
You can add merge fields from Maximizer CRM, for example, Name and Address, User's Name and Details etc. This means different users can use the same templates
Next, you can merge to a list of address book entries in Maximizer (from your contacts, opportunities or customer service cases)
To keep a record of your document, you can save this newly created document against the Maximizer address book entry
Updating Templates is easy and quick to do
A great use of Templates is for printing envelopes and labels
Template Library in Maximizer CRM
All your Word templates are stored in a centralised location for easy access. However, if you're concerned about maintaining consistency in your corporate style or limiting the number of templates people can create, then you can set the security so only certain groups of users can see specific templates, as well as allowing the administrator to add, remove and edit templates.
Server side merging means you don't need Word or the Maximizer Word toolbar installed – it will still work on any browser or operating system, such as Apple Mac.
How does it actually work? The video shows how users can right-click on an address book entry in Maximizer and select Merge to Document. Then they can pick the template they want to use and it produces a Word document with the entry's details merged in. They can then print or save as PDF and email.
Happy viewing! As always, if you have any questions about using Word Templates in Maximizer, please feel free to contact us.