Outlook – one of the most valuable communication tools for millions of business professionals all over the globe. So naturally, Infor has worked hard to integrate Infor CRM with Outlook as smoothly as possible. With Xbar and the Outlook Toolbar you have a complete view of your CRM system from within Outlook. It's an easy feature to install and can be a huge timesaver if used efficiently to add, maintain and manage your Contacts, Opportunities and Leads.
Outlook Integration and Xbar Install and Setup
Getting this feature for your system is easy. When you're logged into your CRM system, navigate to Tools > Options > General Tab. In the bottom left you will see "Install Xbar for Outlook":
Before installing Xbar, ensure your Outlook is closed – then proceed to click Install Xbar for Outlook. This will launch an installer window with a couple of simple steps. Click Install and it should only take a couple of minutes; once it's done, click Close and re-open your Outlook. Ta-Da! Now you have Infor CRM Outlook Integration.

However, before we dive into this head first and start dragging and dropping contacts all over the place there are a few things we need to do, such as setting up the connection between CRM and Outlook.
Navigate to the new black Options button on the right hand side of your Home bar. There is a Server and a Web Client connection that needs to be established via two URLs; both start with the web address of your CRM system: "http://web.address.com" The Server URL is then followed by "/sdata" and the Web Client is followed by "/slxclient". If you need more clarification on this contact your system administrator.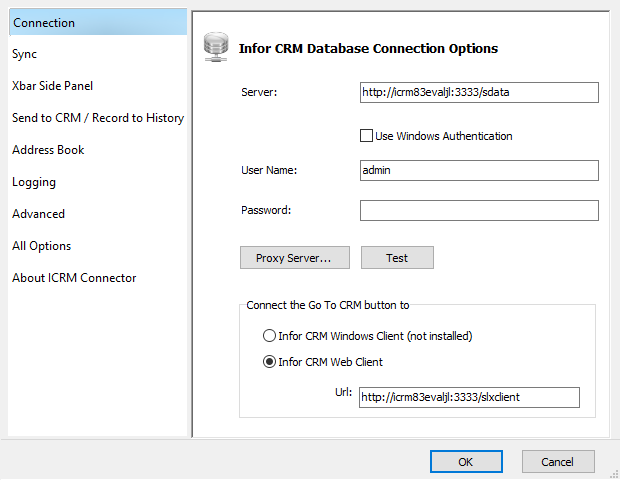 The second thing to establish is the sync settings. To set these, navigate to the Sync tab. This allows you to choose which pieces of information you want to sync and how you want it sync'd. For example: Two-Way means Contacts in your Outlook will be put into Infor, while Infor Contacts will be placed into Outlook. I'd recommend ticking all of these boxes to integrate the two systems as much as possible.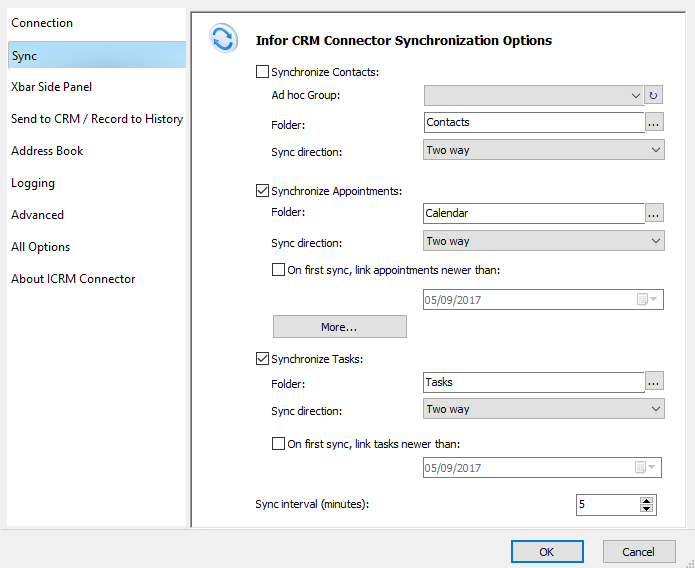 How Xbar works
When Xbar is installed and correctly configured you will have a view into your CRM system from within your Inbox without ever having to log in.

Xbar will identify any sender/recipient of an email in your inbox that also exists within your CRM system; it will then provide details of who they are and why you care about them.
In this example, I have navigated to an email from John Abbott and I can see immediately that he is the President of Abbott Ltd: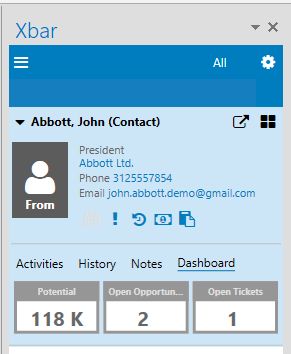 But more importantly than that, I have the five totem Icons, each one representing important tasks or information I have under John or Abbott Ltd in my CRM system.

This icon represents current activities. This could be upcoming meetings, phone calls or things that I need to do for him.

This represents overdue activities. These are things that I should have actioned in the past but haven't yet; so it serves as a reminder to take prompt action.

This represents recent history. For example, if I've had an account review recently or John has asked me to schedule a meeting and it's in the record as a note against John, I can review these recent activities.

This icon represents open opportunities. I can review all the current, open opportunities that I have with John, enabling me to keep an eye on how the sales process is going.

And finally, this represents open tickets. These are issues that I need to bear in mind when talking to John; he may ask questions about these and I should be able to answer them when he does.
You can access any of these areas of information simply by clicking on the totem icon itself, which will bring up a list of all the things you need to review. From here you can click on a specific record within the list to bring up the detail view of that record within your Outlook.
The other powerful aspect about each individual record is the Dashboard. It shows me a summary of opportunities that I have for John at the moment. So there is one Open Ticket I can see, two open opportunities which add up to 118k in total.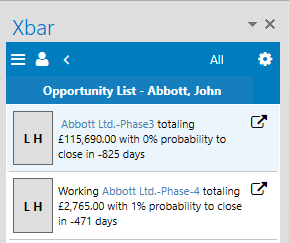 So far we've covered various useful information we have about John but what can I actually do? What can I actually put into the system from here? If I click on the button in the top right, I'll see lots of options fields which I can change directly through Xbar: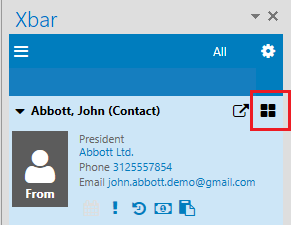 For example, I can change the contact record, so if John's address changes I can update it directly from Outlook. Other changes and updates may include New Meeting (e.g. to arrange an account review) and New Phone Call. Furthermore, if John emails me about an issue he's got, I can create a new ticket for that immediately without having to leave Outlook. And finally, if I receive an email from John regarding something he wants to buy, whether that be products or services, I can create the opportunity for that right here.
Drag and drop functionality
There is another amazing feature of Xbar – the ability to drag and drop pretty much anything that I get emailed. For example, Luke has emailed his address for our first face-to-face meeting and it differs from the one I have in the system currently. If I simply highlight, drag and then drop the address from the email onto the Luke's details card, it will give me the option to do a multitude of things, including updating the contact.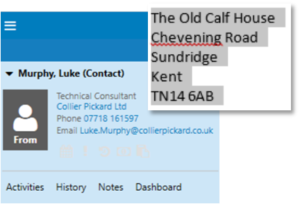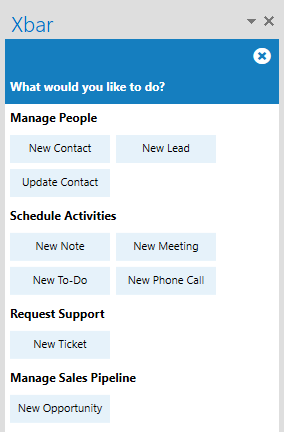 Going back to John's example, once all of his details are in our system we can view them in a detailed view that is very similar to the one we would see in Infor CRM. We can view his Contact Options, i.e. Do Not Solicit, Primary Contact etc., any activities we have against the contact, any tickets he has raised and any attachments against the record.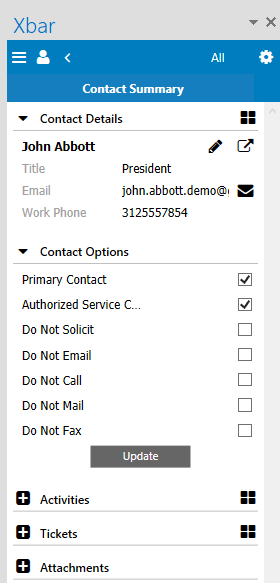 Speaking of attachments; Xbar allows us to drag and drop any file from an email straight into CRM by dropping the file on to the Attachments drop-down area on the Contact Details view. Pretty neat, right?
I hope this has given you a good insight into how easy it is to use your Outlook whilst still accessing and updating vital customer information that lives within your Infor CRM system. We know all too well what happens when information doesn't get updated in your CRM system, or if access to data becomes cumbersome, so the marriage between Outlook and Xbar is a perfect solution to ensure successful use of your CRM solution!