Whether your s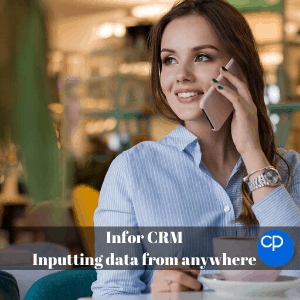 ales team is working in the office or on the road, they will have to be able to access the data in your CRM at all times. From viewing or inserting activity records into their Calendar, or updating opportunities, the ability to access Infor CRM from anywhere is a necessity for any sales team.
Infor CRM caters for this requirement by providing multiple routes into the database, allowing users to view and edit data from Outlook, their mobile phone or their computer. As well as this, custom integrations can be used to allow record updates from your website (contact forms, support cases and customer portals), or even another piece of software.
Infor Mobile
Infor CRM has a specially optimised mobile website allowing you to access your CRM on the go. This gives your sales team easy access to the CRM letting them see any activities that they have outstanding, along with key data about their assigned Accounts, Contacts and Opportunities, as well as any notes recorded against them. This helps to avoid users having to remember information or note down important details from meetings to then enter into CRM later. You can even insert notes into CRM using Speech to Text.
Xbar Module
Infor CRM also has the Xbar module which sits directly in Outlook  and allows you to insert a record into the CRM by simply dragging an email into the interface. Xbar will automatically extract the relevant information from an email signature and use this to create a record in CRM. You can then later drag emails into this interface to save them against the record in CRM in one simple motion.
Xbar also provides the ability to see quick fire information about a contact in CRM. You can quickly see dashboard-like information about the record, such as the value of the open Opportunities for that record, which is great if users work heavily in Outlook. Xbar also allows users to Sync activities into CRM from their Outlook Calendar, and to navigate to a record in CRM with one click, which saves huge amounts of time.
Customer Portal
Something that Infor is great for, is its built-in customer portal. This is useful for companies that provide some form of support or ticketing service to their clients. Customers can be given secure access to their portal to raise their own tickets and to view the status of their currently open Tickets. This means that service desk users do not have to spend time logging tickets, and customers can do this for them instead.
The customer portal also allows customers to see the value of the service they are receiving from you as they can see how many tickets you have resolved for them by looking at historic solved tickets.
Integration
Infor CRM's SData API allows external systems to integrate with the CRM database via API calls. This means you can remove a large amount of the typically required work from several processes you may perform as a business.
To avoid the replication of data insertion in CRM and another system, you may integrate the two using the SData API to insert a record into CRM when someone signs up via your website, or you may change the Contact Preferences for a customer in CRM when the customer edits their preferences through your website. This kind of integration work allows you to keep your data quality and data reportability as high as possible, all within Infor CRM's standard toolset.
We know all too well what happens when information doesn't get updated in your CRM system, or if access to data becomes cumbersome, using these features within Infor can help streamline the data entry process for your entire business.
If you want to find out more about Infor or CRM in general, please do get in contact with us.
Where can I get more advice?
With us! If you need help with choosing a suitable CRM system for manufacturing and engineering, or you want to make sure that your CRM project will be a success, talk to our team. We offer a free, independent CRM consultation that will help you get started with your CRM project. During the session, one of our CRM experts will help you define your needs, what your goals are and what tools you need to achieve these goals. Schedule your CRM consultation now!