Inbound Marketing is a marketing strategy that's focused on getting found by customers. It defines the process you adopt to attract, engage, nurture and convert leads – not by traditional outbound marketing methods, such as cold calling, print adverts and email blasts – but by offering quality content that draws people to your offerings.
Attract
The use of clever and careful content management is key and involves an array of tactics that will attract prospects to your company and products/services, where they naturally want to be. These tactics may include blogging, helpful videos, ebooks, white papers etc, as well as SEO optimisation and social publishing. And by aligning the content you publish with your customer's interests, your inbound traffic then makes it easier for you to convert and delight over time.
Convert
You've attracted visitors to your website with content that interest them. The next step is to convert them into leads – how do you do this? Several ways of capturing information can be used – by creating specially tailored landing pages,  call-to-action buttons or web-forms, all with the purpose of asking them to exchange their details in return for the content that they want to download.
Close
You've got leads – good quality leads. Now you need to work towards closing the deal. This may involve making phone calls or face-to-face meetings; or slow-drip email nurturing campaigns and workflows through marketing automation; or use of alerts and reporting to ensure your leads are followed up at the right time. Whatever your methods, use of a CRM system at this stage makes life a lot easier and effective for closing the deal.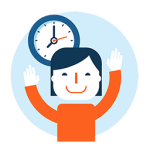 Delight
Inbound marketing doesn't just stop after a sale has been completed – it continues with further engagement to build long-term relationships with your customers. If you delight them enough, they may even become evangelists of your products and services!
Whether you're completely new to inbound marketing and want to learn more about how you can attract more customers, or you're looking to up the ante with your current marketing efforts, our consultants are here to help. And don't forget – we take a holistic approach to marketing, ensuring it is never isolated from your CRM and CX tools.