Visibility. How many times have you heard global business managers talk about visibility? "I need to know what's happening in APAC." "I need to cross reference North American and EU data." And communication systems inside global businesses – although intended to alleviate problems caused by geographic diversity – actually compound the problem through the creation of further sources of data. Excel lists, portals, bespoke SQL databases.
We have a great deal of experience of providing global CRM and CX systems for the sales, marketing and service divisions of global organisations. The key to success is always the maintenance of a "single version of the truth": a place where everyone can have the same view of the customer relationship and of status. All the CRM databases we work with have the scalability to manage global data sets and have the flexibility to manage regional variation in business practices.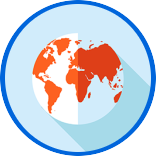 Narrowing down which CRM and CX solution is best suited for your business starts with a deep understanding of your top goals: what your corporate strategy is, what tactics you use to meet these strategic goals, and how you plan to execute these tactics. Only then will the software platform become an obvious choice for your specific needs. Our flagship STEP workshop takes you through this process for the deployment of simply successful CRM.