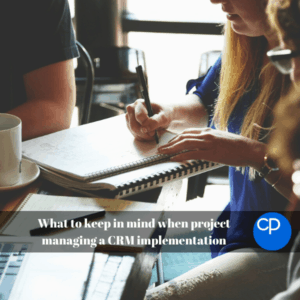 When it comes to implementing CRM, focusing on the finished product is essential. Knowing the desired benefits and system requirements builds the baseline project plan around an agile approach. So, how does a good project manager ensure that the CRM project is a success?
A successful project manager will focus on the outcome of the project instead of the best process to get there. Through doing this they can make sure that all the procedures occur and happen to plan while fully focusing on the outcome will guarantee the best possible result. The three most important things for a project manager are time, scope and cost although they all have to work together to get the most effective result. With no project being the same, the project manager should be sufficient in managing these factors.
Build strategies and plans but give your staff freedom
This can be a complicated part of managing a project as the team must agree on how they will proceed with the plan to avoid any disagreements later on in the project. A good way to do this is by giving the team autonomy over their specific areas of expertise.
There should always be a step-by-step plan for people to follow however, it is the way they are managed throughout the project that can result in a good or poor overall performance. For example, giving a developer a high-level specification but allowing them to develop it in their way instead of being micro-managed ensures autonomy.
Control project execution
Project managers must always keep people on track, this is often done through having Gant charts, flow charts, critical paths and many other project management tools. These can be shared with workers during weekly update project meetings where everything will be discussed. The meeting should include what isn't going well, what's on track and what might be ahead of schedule. It will also run through all the steps of the project, what needs to be done and anything newly identified. The results of these meetings will be noted and kept with the project documents, often in a shared access place.
Quality Assurance
Quality assurance is used to ensure everything is done to the specified standards. Without carrying out quality assurance, specific things which are done to a poor standard may be missed, resulting in an overall poor result. For example, when developing a CRM system quality assurance checks will be carried out to check spelling, ease of use and if the product functions as it should. If something isn't completed to a sufficient standard then the project manager will have to send it back to make it right. The project manager should always ensure the customer receives what they ordered and that the product or service met their expectations. If the customer is not satisfied, the project risks failing.
Mitigate risk
This is the most important task a project manager faces. A risk is a result of an unaddressed issue, one which could make the project fail. However, if the risk is managed then it can help result in a successful project.
When implementing a new CRM solution one of the main issues can be not gaining sufficient user adoption, without achieving this the company risks financial loss through the system not being used. To mitigate this, the project manager should ensure there is sufficient training and acceptance to change through appropriate communication of the changes occurring and why it benefits the end-users. Failing to notice the potential risk early enough, budgets and deadlines may be affected and therefore lead the project to failure. Communication is essential to risk mitigation as it allows all counterparts to contribute their thoughts and solutions to the project.
Conclusion
When implementing a new CRM system, you should ensure you have full trust within the project manager to make sure your project is a success. Here at Collier Pickard, we pride ourselves in providing you exceptional project management throughout your CRM transition.
If you have any questions about implementing a new CRM system, or about CRM in general, feel free to get in touch by heading over to the contact page or by giving us a call. We are more than happy to help.
Where can I get more advice?
With us! If you need help with choosing a suitable CRM system for manufacturing and engineering, or you want to make sure that your CRM project will be a success, talk to our team. We offer a free, independent CRM consultation that will help you get started with your CRM project. During the session, one of our CRM experts will help you define your needs, what your goals are and what tools you need to achieve these goals. Schedule your CRM consultation now!