Infographics: CRM and Marketing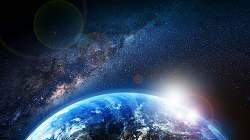 The definition of CRM and marketing is continually changing. It's like an expanding universe. New software tools and web techniques continually emerge and the ways in which you can engage with your target markets, your prospective customers and your loyal clients is in constant flux. So how do you begin to make sense of it all?
Let's start by putting CRM at the centre of your universe. What orbits around it are various elements of marketing: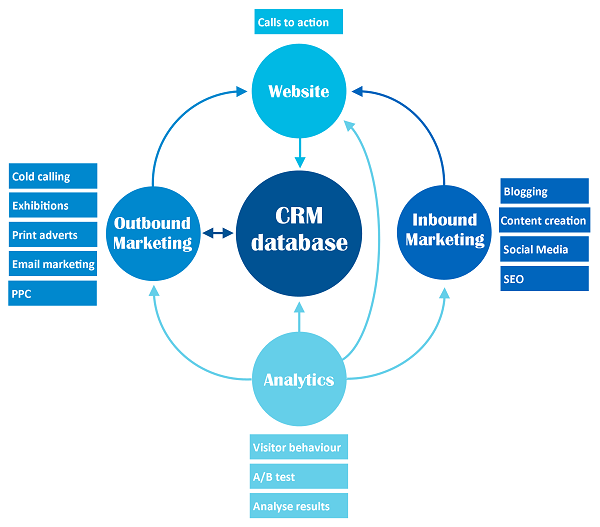 Outbound Marketing
Some would say that this is the more "traditional" form of marketing, where you, the company, initiate communication by sending out messages to your audience. This can be:
Cold calling, or telemarketing. Specialist software may also be deployed for custom workflows and call guides, but ultimately, the data collected would then be stored into your CRM system for follow-up actions.
Exhibitions, or trade shows. Many CRM systems have modules that can help make life easier for marketers when planning for events and scheduling follow-ups. Add-on software may also be used to cope with more hefty, regular event management. And again, data collected would be stored in your CRM system.
Print adverts (or even TV adverts). This type of marketing effort is harder to track, but is still widely used by many marketers.
Email marketing. This is often provided by specialist email marketing providers with cloud-based services that are both secure and "white listed" by the major ISPs. This means that the chances of your message getting through are greater than if you set up your own email marketing domain and do it yourself.
PPC, or Pay Per Click. PPC advertising (commonly through Google) is another effective way to generate leads. By displaying adverts when one of your keywords is entered into a search engine you can generate a high number of leads to fill your marketing funnel.
With all of these outbound marketing efforts, the aim is to either direct your audience to contact your organisation directly, or visit your website (or specific landing pages within your website) for further data gathering and actions.
Inbound Marketing
The opposite of outbound marketing is inbound marketing! Here, techniques are commonly used to enable your organisation to "get found" by potential clients. Exmples include:
Blogging. Why? Well, by sharing your knowledge, experience, hints & tips and other gold nuggets through blogs, you gain the confidence and trust of your readers, and hopefully they will want to take that relationship further – by becoming trusted customers.
Creating fabulous content. These may be white papers, eBooks, video tutorials… again, the idea is to let the outside world know that you're the expert, that it pays to do business with you.
Social media. Love it or hate it, the fact is that everybody is somehow involved with it – be it Facebook, LinkedIn, Twitter, Pinterest etc. etc. Communication channels have exploded and if you're not on board at least some of them, then you're missing out on the opportunity to reach a bunch of potential customers!
SEO, or Search Engine Optimisation. This is the way you affect the visibility of your webpage(s) via unpaid or "organic" means. By constantly refining search terms and keywords you can rank higher in Search Engine Results and generate more organic leads.
Inbound marketing efforts all point in one direction (no, not the boy band) – towards your website, or even better, specific landing pages, which should have appropriate calls-to-action to help drive your leads further down the sales funnel.
Website
These days what makes a website tick is quite complex, and indeed, some of the elements mentioned above (like SEO and PPC) should also be mentioned here, but I won't repeat myself. However, I will add this as an important element to the website:
Calls to Action. Whether they are simple banners and buttons on your web pages or specific landing pages with detailed webforms, it's crucial to design these CTAs in a compelling way that entices your audience to take the next step – be it giving you their contact details or placing a direct order with your business.
This is all very well in and of itself, but if information collected from the Calls to Action are not fed back into your CRM system, then who will follow it up? How will you measure and analyse your marketing efforts?
Analytics
Cue Analytics. Nothing in life is static, so resting on your laurels with one successful campaign doesn't cut the mustard. You've got to constantly analyse, test and refine all of your marketing efforts – inbound, outbound and on your website:
Visitor behaviour. What are your web visitors doing? Do they appear interested in some pages but not others? Are they stopping short at your Calls to Actions? What can you do to improve their experience and, more importantly, what can you do to move them further down your sales funnel?
A/B test, or split test. This applies to several things – from email marketing (e.g. testing subject lines, content etc) to Calls to Action (e.g. testing the landing page style, banner colours, page content etc.)
Analyse results. Work out what works, what doesn't, and make your revisions accordingly. Your refinements should apply to all aspects of marketing as well as feeding the information back into your CRM system to enhance your data quality and, ultimately, your marketing efforts.
So there you have it, in a nutshell. Of course, the connecting lines in the above illustration may, at times, be less defined and/or cross over into other areas, but I hope this overview has helped make things just a little bit clearer.
Did you find this blog interesting? If so, you may also like to watch our Whiteboard video on Digital Marketing and CRM.