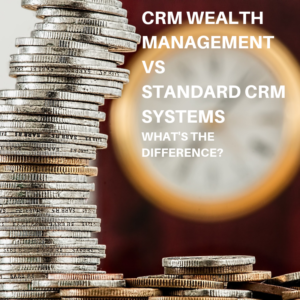 Recent blogs have discussed the differences between "Bespoke" CRM and "Customisable off the Shelf" (COTS) CRM software. Back in April, I suggested that Bespoke CRM made sense in a few, very specific scenarios. This month we are looking at what Wealth Managers and IFA's need from their CRM tool, and whether that would push them towards a bespoke system.
Modern packaged CRM systems provide a suite of tools to help you acquire, maintain and develop long term customer relationships. These tools and the ability to configure the fields and processes to reflect the way you do business should make them the ideal tool for IFA's.
So, beyond the ability to set up some fields and flows, here are my top 5 things to consider.
Family units
The best IFA's will, in the process of discovery, build a profile of not just their client, but their family group. Indeed, for estate planning, this is key data. With appropriate consent, it is also a useful source of additional clients. So, your CRM system needs to have a mechanism for recording the links between spouses and dependants. However, these links mustn't prevent you from developing a client profile for each and every individual. As many CRM tools rely on a Company and Contact hierarchy it may be tempting to use that to store information on families, which may not be the best plan.
Compartmentalised data
Modern families are complicated and evolving things. As marriages break down and new relationships grow, there will be a need to separate and join records to a "Family" unit. Beyond that core unit, CRM will need to have a mechanism for storing relationships between not just family members, but also 3rd parties such as lawyers and accountants. For a wealth management CRM to deliver a "single view of the client" it must have multiple link-building capabilities.
Regular long term reviews
The very best financial advisors have a lifetime relationship with their clients. A key tool in maintaining that relationship over time, and an essential part of ensuring "Best Advice", is regular reviews.
Wealth management CRM tools need to provide reminders many years in-to the future. While any CRM system of note will allow the scheduling of tasks into the future – it is essential that your CRM brings together the single view of data required to conduct the review. Who is to say that when a 10-year review is needed that you will be the person conducting it? Which makes a clear and logical storage structure essential. Things we know help with this include onscreen hints and tips to explain the data in fields and easy document categorisation and summation tools. After all, who wants to read 20 pages of policy wording to understand the key policy benefits?
Also, don't forget those tasks that can creep up without you noticing, like regular KYC checks and expired document chases. The best IFA practices trust their CRM to remind them of everything that needs doing, leaving their advisors to build relationships and develop guidance to clients.
Multiple products and opportunities
The challenge of tracking multiple product sales opportunities and managing the resultant product lifecycle for multiple people linked to a single family is not to be underestimated. Add in the complexity of family breakdown and the need for advanced opportunity management is key to any system. Look for the ability to have different fields related to each opportunity, but allow for the use of core data held at the personal level without the need for retyping.
Maintaining a central set of personal details that can be used for any plan application significantly reduces the Fact Find time. The key is to show that this core person's data is regularly audited and updated when needed.
Integration to other platforms?
Finally, the elephant in the room, linking to other platforms. Should your CRM be truly independent or should it be a terminal on someone else's platform? If you need to enter data for a product application into another system there may be an attraction to building a link between the two. Some CRM tools already provide such pre-built links, and some platforms will boast of their capabilities to integrate.
Our view is that there are different answers to this question depending on your circumstances. What are your long term goals for your business? Do you want to build an asset that could be left to your surviving family or sold to provide a retirement nest egg?
The best way to find out, and to ensure that our recommendations will meet your needs now and in the future, is to meet with one of our advisors.
Where can I get more advice?
With us! If you need help with choosing a suitable CRM system for manufacturing and engineering, or you want to make sure that your CRM project will be a success, talk to our team. We offer a free, independent CRM consultation that will help you get started with your CRM project. During the session, one of our CRM experts will help you define your needs, what your goals are and what tools you need to achieve these goals. Schedule your CRM consultation now!