The Customer Company
Salesforce.com recently announced that they have achieved number one status in the world of CRM. But what does this mean, and what does it tell us about the state of the CRM industry? This week's CRM Whiteboard session takes a look at the Customer Company.
Transcript:
Hello and welcome to this CRM whiteboard session. Today we're going to talk about The Customer Company.
If you've been following the news recently you'll discover that SalesForce.com are very proud of the fact that they've achieved number one status in the world of CRM, having overtaken SAP based on the recent assessment of both cloud and on-premises revenues from CRM.
Even though we don't think that Salesforce.com is the right CRM software for everybody all of the time, it is interesting to just look at what they've done and the way they have talked about themselves in the market that's given them this position.
The top four players in the CRM supply market are:
Salesforce.com who describe themselves as the customer company
SAP who describe themselves as the HANA company
Oracle who describe themselves as the Exadata company
And Microsoft who describe themselves as the Windows company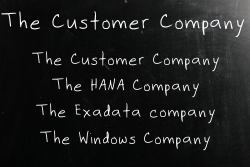 HANA is about in-memory computing. Exadata is about the latest generation, the next generation of database machines. And Windows is about operating systems and the power behind IT.
Out of these statements, only Salesforce.com is focusing on what its product can do to help you engage with your customers more effectively.
At Collier Pickard we've had the same ethos for many years. If we're talking to an organisation about CRM and we can't easily help them identify where they get a business benefit , how they're going to improve their customer share, how they're going to reduce their cost of operation, how they're going to increase customer satisfaction, if we can't identify those things then we believe that we don't have a CRM proposition for them – and it's great to see that the market leader has eventually come around to the same way of thinking.
The others are still talking about things under the bonnet of CRM, instead of the way that Salesforce.com are talking – which is about what it can do for you.
If you're thinking about CRM you should be thinking about how it can help you increase your revenues, improve your market share and increase customer satisfaction, not whether it's the best in-memory system or whatever.
We have a series of eBooks on our website, including a CRM Strategy eBook which will help you think about some of the issues that might make you a customer company. Thank you for watching today.