CRM Problems And Issues #2: Project Driver Leaves
How would your CRM system cope if the original project driver or sponsor moved on? Would it still be maintained and monitored? This week's CRM Whiteboard video focuses on how to avoid your CRM system failing in just such an eventuality.
Transcript:
Hello and welcome to this video whiteboard session. Today we're going to talk about CRM problems and issues. This is number two in a series of four where we're talking about the situation where the initial driver, the driving force behind your CRM programme has moved on. It might have been a Senior Director of the company, it might have been a Project Manager that you appointed to be the driving force and get the enthusiasm going, get some momentum into the project start-up, but now that person's moved on, they've been deployed to another part of the business, and we need to maintain momentum in the project so that it survives in the long term.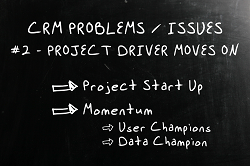 The right way to do that is not to think about replacing the original driving force, the original driver of the project, not replacing that person with another driver at the same level in the organisation. Our experience of CRM implementations is that the right way to drive the long term momentum of the project is to get the driving force happening much, much lower down the organisation. You need users in the different customer touching points that use the CRM system; sales people, marketing people, customer service people, the people who rely on the CRM system to do their jobs every day. You need to find some champions in this community and make sure that they enthuse the people around them, that they help their peers and that they become points of continuing enthusiasm and adoption of the system.
Also, most importantly, you need to find at least one person that cares passionately about the data quality in your system. Often it's somebody in your marketing department that has got this aptitude, but a data champion is a key attribute of long term momentum in a CRM project and long term success.
So be aware of this when you go into a CRM implementation. Be aware that this event is likely to happen and that you need to identify these people fairly early on in the project lifestyle and probably before this person actually moves out.
We hope you've found this tip useful there's more info about CRM and CRM best practice on collierpickard.co.uk and in our blog, and thank you for watching today.