CRM Integration with Calendar Systems – The Final Frontier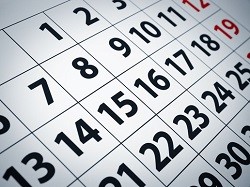 It looks very much as if 2014 will continue many of the trends started in 2013. Product announcements from Swiftpage, Microsoft, and others continue the drive put CRM at the centre of your user's working day. Will they succeed? I am growing increasingly concerned that CRM is ignoring an elephant in the room. Do busy people look to their CRM system, or their diary for what's important?
If your day is anything like mine, then a number of competing tasks and activities jostle for your attention. Not just work related tasks but things outside of work as well. If you have children then your list has to include their social calendars as well. So many things to do, so little time! My work life is increasingly managed by the diary in our CRM system, while my social schedule struggles for attention.
Work life balance
Being able to identify the problem is just the beginning. If there is to be any chance of a solution it is essential to identify the root cause of my missed appointments and forgotten birthdays. Actually the cause is fairly obvious. My CRM diary and my social diaries just don't talk to each other. Social diaries plural, because they are many and varied. There is the one on the side of the fridge, the one in my family Office 365 cloud, the one on my mobile phone, the one on my wife's mobile phone, and the one in my head.
Sometimes identifying the cause of the problem does provide an obvious solution! If I take a logical approach to the problem, then diary consolidation would appear to be the answer.
Most CRM platforms provide limited integration with other business diary management systems, most commonly Microsoft Outlook. Whilst this is a good start, it is not a complete solution.
Put simply, Microsoft Outlook was not designed as a CRM solution – it doesn't link calendar appointments to companies, contacts and opportunities. As a result trying to calculate the effort applied to winning a deal is disproportionally high. And the workload grows exponentially if you want to see the effort that was put into a single opportunity by everyone in your company.
So while Outlook integration allows a single view of my work calendar, as it would show company internal and external (client) meetings, it will create more work in reporting on which client used my time.
Consolidation?
Perhaps the answer lies not in co-existence, but in the replacement of some of my diaries? The problem with this is that as discussed MS Outlook is not an ideal calendar in CRM terms. But it is installed on most business people's computers. My CRM calendar is excellent, and has the added benefit of being accessible from my smartphone. But it would require the purchase of CRM licences for everyone in the company and it doesn't address the challenges of bringing my work diary and my social diaries together.
So a single diary looks to be a distant dream. An answer needs to be found, or we risk undermining the use of CRM across organisations. The solution needs to allow for a single, universally accessible diary (with security) that allows for appointments to be linked to entries in my CRM system. Oh and it needs to be Free – or very nearly free.
Do comment and let me know if I have got this wrong. Is there a solution to this conundrum? Can business and personal diaries be bought together? Finally does anyone know where I can get a bunch of flowers and a "Sorry I forgot your birthday" card?