Reading Time: 2min15s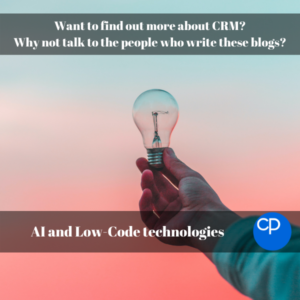 During the webinar "Grow revenues in 2021 using AI and Low-Code technologies" a great question was asked by a member of the audience. Time did not allow a complete answer to the question during the one hour session, so this blog addresses the matter. First, the question from Mary: "What key business processes should be changed during these uncertain times?" Now the answer, which must come in two parts.
The power of research
Global research shows that revenue growth comes from the application of AI to sales and marketing processes. The McKinsey Analytics report: "The State of AI in 2020" verifies this and a poll taken during my presentation at the AI and Low-Code webinar agreed. 88% of the audience selected sales and marketing as the best areas for use of these technologies. This research and opinion poll are great – but they don't answer Mary's question. The subject matter is too broad. The real answer must focus on "marketing".
Marketing delivers your strategy for attracting and retaining customers. Marketing creates and develops the infrastructure that makes it easier for people to do business with you. So if my answer to Mary's question is to come in two parts, why have I settled on "marketing", a single topic? And the answer here is that there are two sides to marketing. Inbound marketing and account-based marketing (sometimes known as ABM).
Winning in a crowded market
If your business is not the leader in your market, then it's likely that your goal will be growth through demand generation and lead generation. Attract new people that you had not known before. In this case the business processes that should change in these uncertain times are your measurements. The ways in which you collect data. You need metrics to show you the best content and best placement for that content for top quality lead generation. You can measure this from analytics inside your CRM and marketing automation world.
Low-Code tools help you rapidly configure processes that capture click-through rates, website visitor journeys, conversion to sales opportunities and new customer acquisition rates. As you build this analytic data over time, the machine learning (ML) side of AI will show you trends and recommend next best actions. It will deliver the insight you need to improve the effectiveness of your marketing-driven growth plan.
Staying ahead of the game
On the other hand, if you are a major player within your sector, the focus of your marketing may be to target new customers on a selective basis. ABM. Here the business processes that must be developed to keep you at the top of your game are those that make you special. Why do people buy from you? What differentiates you from others in your field? If you adopt Low-Code technology to automate the business processes that make it easier for people to keep buying from you, then you will have a tool set that can be rapidly adapted to changes in the market. Processes that can be fine tune, or even overhauled from time to time, to keep you in the place that makes you different.
AI technology can help here as well, where next best actions become recommendations from the technology. It can consider so many more possibilities and predict more outcomes than we can with your experience and gut feel alone. The trick here is to let AI guide your success in repeatable processes, to inform you of better possibilities, and for you to have a Low-Code platform that can be changed rapidly and with ease.
Marketing is the answer
So the short answer to Mary's question at the webinar is "marketing". You just need to think carefully about your marketing processes and make changes that will have the biggest impact on your commercial proposition and your growth.
If you would like to talk about AI and Low-Code technologies within your organisation, then please get in touch. We've been helping people rethink their approach in these areas and we'd be pleased to help you.
Where can I get more advice?
With us! If you need help with choosing a suitable CRM system for manufacturing and engineering, or you want to make sure that your CRM project will be a success, talk to our team. We offer a free, independent CRM consultation that will help you get started with your CRM project. During the session, one of our CRM experts will help you define your needs, what your goals are and what tools you need to achieve these goals. Schedule your CRM consultation now!