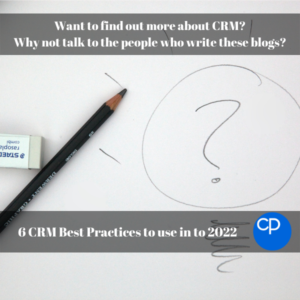 What a year we've had! We've still got a little bit to go, but as the days get shorter, I'm painfully aware that 2021 is almost over (where did it go?!) and that my Q1 2022 marketing plan needs to be finished and ready so that we can start the year running.
The end of the year marks the perfect time to have a look at your CRM and think about how it's performed over the year and where things can be improved. So, with that in mind, what should you be considering when you think about the performance of your CRM system? As with any good plan, let's start with the foundations – your CRM best practice.
Audit, Audit and Audit
The first and most important thing to remember in CRM best practices is to figure out what you want from your system – analyse your needs and objectives thoroughly so that you can approach the next 9 points with that in mind.
Your businesses needs and requirements will change over time, so while your system may have done everything it needed to when you first adopted it, does it still support your business now? It could be that you need more features, or maybe you need less. Just because your system can do everything that you could possibly dream of such as predictive purchasing, if you're only using half the features, maybe there is a more affordable system out there that can do it for you without overcomplicating things?
Automate
The whole point of technology is to make everything easier for you. In a recent study from MapMyCustomers, they found that on average, a salesperson is spending 11 hours per week on admin tasks. If you can automate that, then why wouldn't you?
By looking through your organisational and team requirements you can identify any redundant or repetitive tasks in your workflow. As one of the CRM best practices to keep in mind going into 2022, have a look at these tasks and consider how your CRM can be used to speed up processes and maximize efficiency. Alternatively, give us a call and we can do this part for you.
Simplify workflows
Your workflows and business processes can become very complicated over time, if they don't have to be – then simplify. Can you streamline your processes? Are there any superfluous tasks that could be removed, or even merged with another?
Using automation and CRM software on top of unstable or ambiguous processes will render the software useless. However, used in the right way, automation can be a powerful aid when it comes to your workflows. One of the most important CRM best practices to follow would be to look at your business processes and make them as simple as possible.
Proactive
If you've been using a CRM for the last few years, you have all this data at your fingertips, use it. If you know that your email campaigns perform better at 11 am in the middle of the week, that's when you should send them.
One of the most important CRM best practices to keep in mind for next year is to make use of intelligent CRM analytics – look for new opportunities, address customer needs and concerns proactively.
Sweat the data
Following aptly on from Proactive, sweat the data. Most CRM systems give you multiple ways to sort and look at the data in the system. One of the tools that we use weekly is dashboards. I can easily see how my email campaigns are performing, how the leads that I pass to the sales team are progressing and how close I am to meeting my targets, to name but a few.
Perhaps one of the most helpful best practices that you should always keep in mind is to always check your data.
It's all about the customer
Finally, it's all about the customer. It is the C in CRM. All of your business efforts, processes and workflows should be run with the customer in mind. Do your business efforts help you get more customers? Do your processes make it easier to delight your customers? And do your workflows allow you to help your customers more quickly?
So, for this final best practice – keep your customer at the forefront of your thoughts. If it isn't going to help you get customers, help your customers, or help your team when it comes to dealing with customers, then don't do it.
CRM is here to support your business and help you better delight your customers. Every business decision you make should ultimately be about your customers. By following these best practices, providing the very best customer experience, and nurturing long-lasting relationships with your customers your business will grow and you'll see results where they really count – the bottom line.
Where can I get more advice?
With us! If you need help with choosing a suitable CRM system for manufacturing and engineering, or you want to make sure that your CRM project will be a success, talk to our team. We offer a free, independent CRM consultation that will help you get started with your CRM project. During the session, one of our CRM experts will help you define your needs, what your goals are and what tools you need to achieve these goals. Schedule your CRM consultation now!